You want a fun car that can carry five and lets you enjoy driving when the road gets a little twisty. You can afford to spend in the low $30,000 range. And you want to treat yourself to something with a bit of luxury and a few shakes of nostalgia.
Whether you asked us the question in 1993 or 2023, two of the most interesting options we'd give you would be the Acura Integra and the Volkswagen Golf GTI. They have slightly different body styles — one a 5-door that could be mistaken for a sedan, the other the classic hot hatch. But they offer a similar dose of fun and similar levels of luxury for a similar price tag.
Let's watch the 2023 Integra and the 2023 Golf GTI square off.
2023 Acura Integra
The best decision Acura has made in years was the 2023 return of the Integra name. The least expensive Acura, the Integra cashes in on nostalgia with its 5-door body style and Civic-after-a-year-of-strength-training spirit. But it adds an impressive equipment list and flexible buying options thanks to an A-Spec model with enhanced suspension and a Technology package with… well… you can probably guess. An available 6-speed manual transmission is fun for driving purists. Pricing starts at $31,300.
Acura Integra Highlights
More affordable when fully loaded: These two have similar base prices. But their prices don't climb the same way when you start adding features. An Integra A-Spec with Technology package starts at $36,300. The equivalent Golf GTI Autobahn starts at nearly $40,000.
More cargo space with the seats in place: The Golf GTI is a hatchback. Hatchbacks are famous for their flexible cargo space with the seats down, but you don't want to have to put the seats down every time you need to carry something. The Integra's 24.3 cubic feet of space have the Golf's 19.9 beat.
Cool factor: If you learned to drive or just yearned to drive when the original Integra models were common, this is what cool looks like. The Golf GTI has its fans, but maybe because it never went away, we've never had to miss it and been excited to welcome it back.
Check this week's Fair Purchase Price or see the Acura Integra models for sale near you.
2023 Volkswagen Golf GTI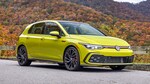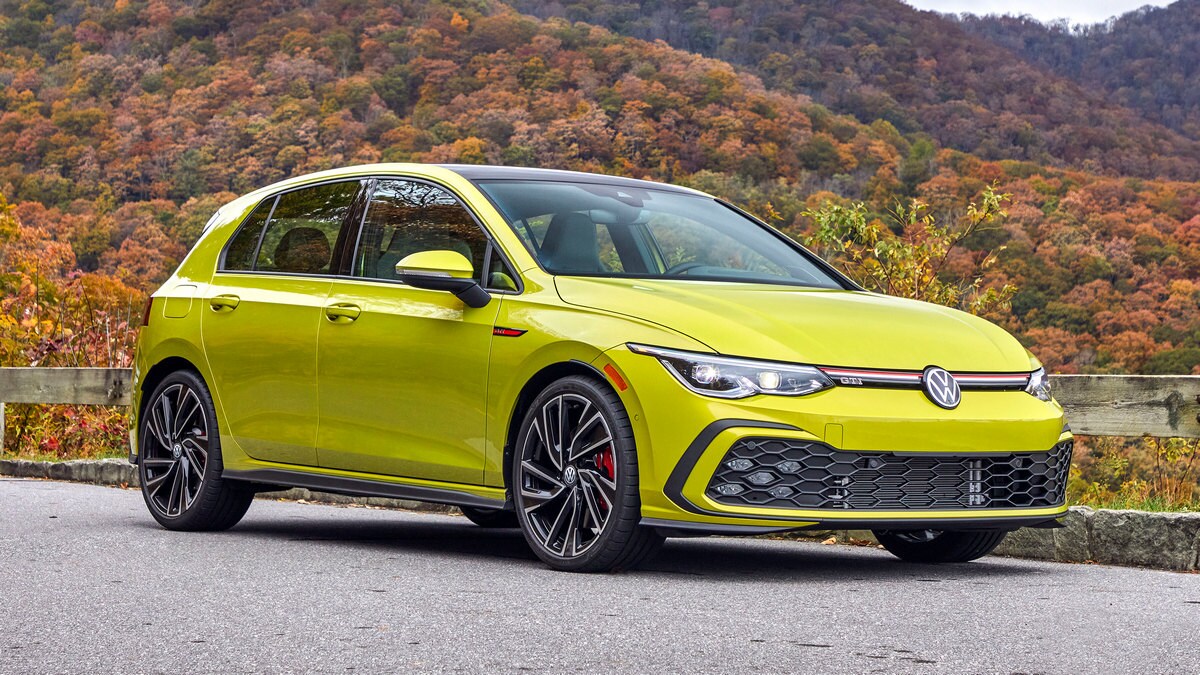 Volkswagen makes its own fun-to-drive, entry-level-luxury 5-door. The Golf GTI has a heritage even longer than the Integra's with a unique style. Its turbocharged 4-cylinder engine makes 241 horsepower and comes standard with a 6-speed stick (though a 7-speed automatic is available if you don't want to work that hard). Prices start at $30,530.
VW Golf GTI Highlights
Hot hatch style: The high-performance hatchback was once a hotly contested segment of the automotive market. It's almost gone now, but the Golf GTI has held on longer than most of its rivals. If you crave the cargo space of a hatchback and the fun of a performance car, this is almost the last of its kind.
More power: Pitting these two against each other on a twisty track would be fun. But if that track had a couple of good straightaways, the GTI might get away from the Integra thanks to 41 additional horsepower.
Super high-performance Golf R option: If you can spend the money, Volkswagen makes an even-higher-performance Golf, the Golf R. It's not cheap, with a starting price close to $45,000, but Acura doesn't have an answer. It may soon, however — Acura reportedly plans a quicker Integra Type S later this year.
Check this week's Fair Purchase Price or see the VW Golf models for sale near you.
Similarities
These are both fun-to-drive compact cars with a dash of luxury. Both use turbocharged 4-cylinder engines, and they're each available with a 6-speed manual transmission for those who still love to drive stick.
Conclusion
A similar budget will get you a 2023 Acura Integra or a 2023 Volkswagen Golf GTI. Both are fun cars to own. The Integra gives you more cargo space without putting the seats down, and you can get a fully-loaded version for less. The Golf gives you that hot hatch character, and if you want to spend the money, an R version that Acura can't match (yet).
Either car will give you day-to-day practicality and a dose of fun you don't get with many rivals.
Specifications
| | | |
| --- | --- | --- |
| | 2023 Acura Integra | 2023 Volkswagen Golf GTI |
| Starting Price | $31,300 | $30,530 |
| Popular Powertrains | | |
| Engine | 1.5-liter turbocharged 4-cylinder | 2.0-liter turbocharged 4-cylinder |
| Horsepower | 200 hp @ 6,000 rpm | 241 hp @ 6,500 rpm |
| Torque | 192 lb-ft @ 1,800 rpm | 273 lb-ft @ 4,000 rpm |
| Transmission | CVT | 6-speed manual |
| Fuel Economy | 30 city/37 highway/33 combined mpg | 23 city/32 highway/27 combined |
| Also Available | 6-speed manual | 7-speed automatic; high-performance Golf R |
| Specs | | |
| Basic Warranty | 4 years/50,000 miles | 4 years/50,000 miles |
| Powertrain Warranty | 6 years/70,000 miles | 4 years/50,000 miles |
| Max Seating Capacity | 5 | 5 |
| Wheelbase | 107.7 inches | 103.6 inches |
| Overall Length | 185.8 inches | 168.8 inches |
| Width | 72.0 inches | 70.4 inches |
| Height | 55.5 inches | 57.6 inches |
| Turning Diameter | 38.1 feet | 35.8 feet |
| Headroom, Front | 37.6 inches | 38.5 inches |
| Headroom, Rear | 36.4 inches | 38.1 inches |
| Legroom, Front | 42.3 inches | 41.2 inches |
| Legroom, Rear | 37.4 inches | 35.0 inches |
| Shoulder Room, Front | 57.0 inches | 55.9 inches |
| Shoulder Room, Rear | 56.0 inches | 53.9 inches |
| Cargo Volume | 24.3 cubic feet | 19.9 cubic feet |
Source link