How different can one subcompact SUV be from another? Dramatically different.
The 2023 Mazda CX-30 and Volkswagen Taos are both subcompact crossovers from automakers that build affordable cars, but like to make the luxury carmakers a little nervous. Both pack a lot of features into a small package and a reasonable price tag.
But their personalities make them very different choices. Let's explore.
2023 Mazda CX-30
This year, the 2023 Mazda CX-30 is the lowest-priced new vehicle on a Mazda dealer's sales lot. Its $22,950 starting price is excellent for what it gets you – a 191-horsepower 4-cylinder engine more powerful than most automakers provide in this class and lively handling that makes the CX-30 fun to drive. If you want more performance, the 2.5 Turbo Premium uses a turbocharged 2.5-liter engine good for 250 horsepower and carries a starting price of $33,800.
Mazda CX-30 Highlights
Standard all-wheel-drive (AWD): Mazda builds its reputation on fun-to-drive cars, but all of its SUVs also offer standard AWD this year. That added grip means a lot in cold-weather states. Volkswagen charges for it. Mazda doesn't.
Two engine choices, both a lot of fun: Most subcompact SUVs provide around 150 to 160 horsepower. The Taos' 158 is typical for the class. CX-30 buyers, though, have two engine choices – one with 191 horses and the other with 250.
Curvy good looks and jewel-like colors: Most automotive designers seem to have gotten the same memo for the 2023 model year. SUVs keep getting boxier and more rugged-looking. The CX-30 is reasonably capable, thanks to that standard AWD system. But it looks sportier than rivals thanks to a design theme heavy on curves. Mazda pairs it with some exceptional paint jobs this year and real visual depth, making the CX-30 a lovely SUV.
Check this week's Fair Purchase Price or see the Mazda CX-30 models for sale near you.
2023 Volkswagen Taos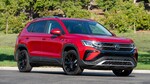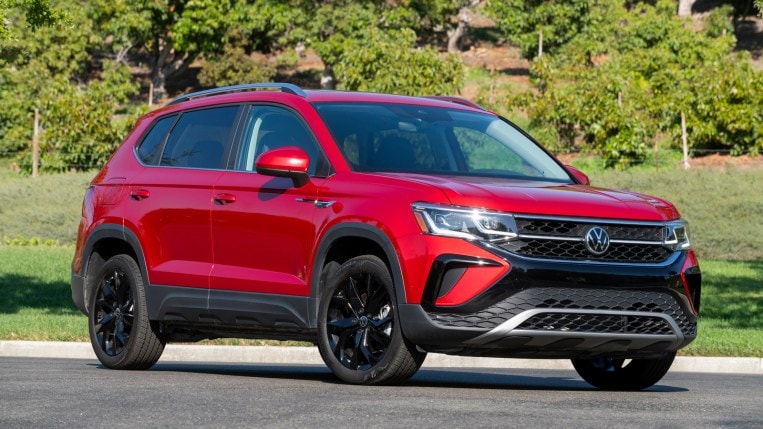 The 2023 Taos isn't quite the least expensive thing on the Volkswagen sales lot since VW still produces a strong budget model Jetta. But it's close, with a starting price of just $24,155. For that price, you can take home a roomy, handsome Taos known for a suite of technologies that feel more expensive than its price suggests.
Volkswagen Taos Highlights
Abundant space: Subcompact SUVs aren't known for their roomy nature. But the Taos leads most of the class in headroom, space for rear-seat passengers, and cargo capacity.
Digital Cockpit: Most new vehicles now place a digital screen in front of the driver instead of old-fashioned gauges. Except in this price range. The CX-30, like most rivals, uses a traditional gauge cluster. The Taos, on the other hand, has a more luxurious-looking digital setup.
Complimentary maintenance: If you're shopping in the subcompact classes because you don't want to spend more than you have to, VW's complimentary maintenance program might win your attention. For the first two years or 20,000 miles, standard maintenance appointments are free. To be fair, a new car shouldn't need much maintenance in the first 20,000 miles. But saving on oil changes and tire rotations is nice.
Check this week's Fair Purchase Price or see the Volkswagen Taos models for sale near you.
Similarities
Compact size for easy maneuverability, great road manners, similar prices
Conclusion
The Mazda CX-30 and Volkswagen Taos both feel premium for their price range. Both are among the better-handling vehicles in their class. The CX-30 looks sleek and fun, while the Taos looks boxy and more rugged. You'll get more space out of the VW but probably more fun out of the Mazda.
Is there a wrong choice? Probably not. But which one you'd enjoy owning comes down to which set of traits attracts you.
Specs
| | | |
| --- | --- | --- |
| | 2023 Mazda CX-30 | 2023 Volkswagen Taos |
| Starting Price | $22,950 | $24,155 |
| Popular Powertrains | | |
| Engine | 2.5-liter 4-cylinder | 1.5-liter turbo 4-cylinder |
| Horsepower | 191 hp @ 6,000 rpm | 158 hp @ 5,500 rpm |
| Torque | 186 lb-ft @ 4,000 rpm | 184 lb-ft @ 1,750 rpm |
| Transmission | 6-spd automatic | 8-spd automatic |
| Fuel Economy | 29 mpg (26 city/33 hwy) | 31 mpg (28 city/36 hwy) |
| Also Available | 2.5-liter turbo 4-cylinder | 7-spd automatic; AWD |
| Specs | | |
| Basic Warranty | 3 years/36,000 miles | 4 years/50,000 miles |
| Powertrain Warranty | 5 years/60,000 miles | 4 years/50,000 miles |
| NHTSA Overall Safety | 5 stars | 4 stars |
| Max Seating Capacity | 5 | 5 |
| Wheelbase | 104.4 inches | 99.2 inches |
| Overall Length | 173.0 inches | 161.3 inches |
| Width | 70.7 inches | 69.5 inches |
| Height | 61.7 inches | 64.8 inches |
| Turning Diameter | 34.8 feet | 36.8 feet |
| Headroom, Front | 38.1 inches | 40.7 inches |
| Headroom, Rear | 38.3 inches | 39.8 inches |
| Legroom, Front | 41.7 inches | 40.1 inches |
| Legroom, Rear | 36.3 inches | 37.9 inches |
| Shoulder Room, Front | 55.6 inches | 56.5 inches |
| Shoulder Room, Rear | 53.6 inches | 55.2 inches |
| EPA Passenger Volume | 94.1 cubic feet | 99.9 cubic feet |
| EPA Cargo Volume | 20.2/45.2 cubic feet | 27.9/65.9 cubic feet |