Compact SUVs are the second-best-selling type of vehicle in America. They combine livable passenger and cargo space with a high seating position for better visibility and, often, sure-footed all-wheel drive (AWD). The Mazda CX-5 and Mitsubishi Outlander are similarly priced strong contenders in the segment. Here's how they compare:
2023 Mazda CX-5
Most car critics consider the 2023 Mazda CX-5 the most fun-to-drive vehicle in the affordable compact SUV class. It wears a curvier body than many competitors, and its interior feels premium for its price. It starts at $26,700, with a 187-horsepower 4-cylinder engine. If you're looking for even higher performance, you might want to step up to the 256-horsepower turbocharged model.
Mazda CX-5 Highlights
Standard All-Wheel Drive: For the 2023 model year, Mazda has made AWD standard across its entire SUV lineup. Many SUV buyers are specifically looking for all-weather capability. So having it baked into the base price gives the CX-5 a real advantage. It's available on the Outlander but adds $1,800 to the price.
Fun-to-Drive: Mazda does one thing better than any other automaker outside the luxury price range: make practical cars fun. Our test driver says the CX-5 is "composed, precise, agile, and involving. It has to be said that compact SUVs are not generally celebrated for being fun machines, but the CX-5 can definitely fill that niche."
Available turbo power: Most compact SUVs come with a 4-cylinder engine making around 180 horsepower. The CX-5 matches that description, with its standard engine making 187. But buyers have the option of a 256-horsepower turbocharged model. It makes the CX-5 an affordable alternative to small luxury SUVs.
Check this week's Fair Purchase Price or see the Mazda CX-5 models for sale near you.
2023 Mitsubishi Outlander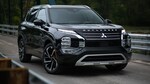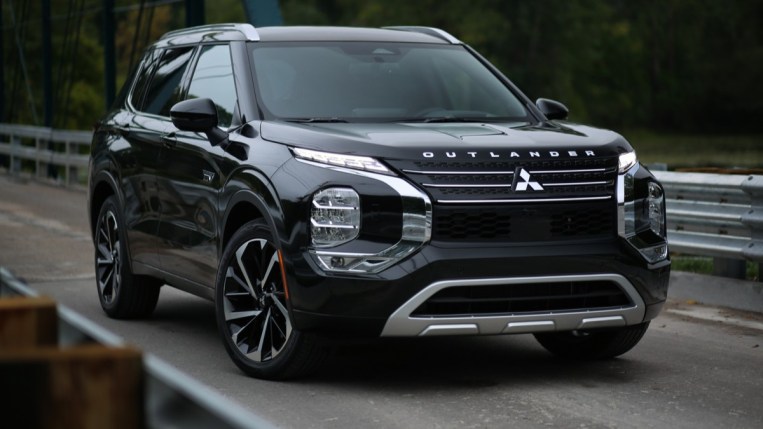 Many months, Mitsubishi sells a third as many Outlanders as Mazda does CX-5s. But that doesn't mean you should overlook the Mitsu in your search. It is one of the only compact SUVs available with three rows, and is available as a plug-in hybrid (PHEV) model that gets up to 38 miles on electric power alone. The 2023 Mitsubishi Outlander starts at $27,595, though that PHEV model starts at a much higher $39,845.
Mitsubishi Outlander Highlights
Seating for seven (sort of): The Outlander is one of the smallest vehicles available with a third row of seating. It gets there by having an exceptionally small third row – third-row passengers get less than half the legroom second-row riders get. But, if you're using it occasionally or for small children, that third row gives you flexibility few rivals can match.
Plug-in hybrid option: There's a Goldilocks point between going electric and sticking with gas for your next car. PHEVs use electric power around town and gasoline for longer trips. The Outlander PHEV gets up to 38 miles on electric power alone, so it's like owning an EV for your commute and daily errands without range compromises.
Long warranty: Mitsubishi protects the Outlander's powertrain with a 10-year/100,000-mile warranty – double the mileage and almost double the years Mazda offers. Mitsubishi's bumper-to-bumper plan lasts longer, too. Protection against financial surprises goes a long way toward creating trouble-free ownership.
Check this week's Fair Purchase Price or see the Mitsubishi models for sale near you.
Similarities
The CX-5 and Outlander start less than $900 apart, and their standard engines are almost twins. They come within one mpg of one another in front-wheel-drive form. And both are a little unique in a parking lot filled with look-alike Hondas and Toyotas.
Conclusion
The 2023 Mazda CX-5 and 2023 Mitsubishi Outlander are distinctive choices with strong reputations. The CX-5 is unquestionably more fun to drive, and Mazda doesn't make you pay extra for AWD grip. But it can't match the Outlander's cargo space or ability to seat seven occasionally. The Outlander offers a unique plug-in hybrid capability if you're willing to pay for it. Which one works best for you depends on which of those traits are most important in your daily driving.
Specs
| | | |
| --- | --- | --- |
| | 2023 Mazda CX-5 | 2023 Mitsubishi Outlander |
| Starting Price | $26,700 | $27,595 |
| Popular Powertrains | | |
| Engine | 2.5-liter 4-cylinder | 2.5-liter 4-cylinder |
| Horsepower | 187 hp @ 6,000 rpm | 181 hp @ 6,100 rpm |
| Torque | 186 lb-ft @ 4,000 rpm | 181 lb-ft @ 4,000 rpm |
| Transmission | 6-speed automatic | Continuously variable |
| Fuel Economy | 24 city/30 highway/26 combined (4-cylinder engine) | 24 city/31 highway/27 combined mpg (FWD) |
| Also Available | 2.5-liter turbocharged 4-cylinder engine w/ 227 horsepower | AWD, Plug-in Hybrid |
| Specs | | |
| Basic Warranty | 3 years/36,000 miles | 5 years/60,000 miles |
| Powertrain Warranty | 5 years/60,000 miles | 10 years/100,000 miles |
| Max Seating Capacity | 5 | 7 |
| Wheelbase | 106.2 inches | 106.5 inches |
| Overall Length | 180.1 inches | 185.4 inches |
| Width | 72.6 inches | 74.7 inches |
| Turning Diameter | 36.0 feet | 36.1 feet |
| Headroom, Front | 39.7 inches | 40.6 inches |
| Headroom, Second Row | 39.0 inches | 39.1 inches |
| Headroom, Third Row | N/A | 34.5 inches |
| Legroom, Front | 41.0 inches | 41.7 inches |
| Legroom, Second Row | 39.6 inches | 39.9 inches |
| Legroom, Third Row | N/A | 18.7 inches |
| Shoulder Room, Front | 57.1 inches | 57.9 inches |
| Shoulder Room, Second Row | 54.8 inches | 55.9 inches |
| Shoulder Room, Third Row | N/A | 51.2 inches |
| Cargo Volume | 29.1/59.3 cubic feet | 11.7/78.3 cubic feet |
Source link