Americans buy a lot of 3-row SUVs, and automakers design a lot of 3-row SUVs to sell them. They're great do-everything vehicles, with the ability to comfortably move up to eight people, cargo space for serious hauling, and all-weather safety. But they're not all alike.
In a parking lot full of similar Toyotas and Hondas, the Mazda CX-9 and Mitsubishi Outlander stand out as more interesting choices. Let's see how they compare.
2023 Mazda CX-9
Designing the 2023 Mazda CX-9  must have taken Mazda engineers a bit of actual wizardry. It has as much passenger and cargo space as most 3-row family haulers. But after you drop the kids off, it seems to shrink around you and behave like something smaller and much more fun to drive. It starts at $38,750, plus $1,275 in destination charges.
Mazda CX-9 Highlights
The best handling in its class: We don't normally discuss sport sedan manners when covering 3-row SUVs. And perhaps it's a bit of an exaggeration to use those terms for anything this size. But our test driver says the CX-9 "doesn't drive like a 3-row SUV. Rather, it has the nimbleness and finesse of something smaller, and maybe even something that isn't even an SUV."
A real third row: The Mitsubishi Outlander is a great solution if your third row will only ever need to accommodate kids. But it's more like a 2-row SUV with jump seats in the back more geared to occasional use. The rearmost row of the CX-9 is bigger in every dimension. You won't feel as guilty asking adults or older kids to sit back there.
It's lovely: There's a decided trend toward boxier, more rugged-looking SUVs this year. The Outlander is distinctive, but still applying that philosophy. Mazda is bucking it, with a flowing design that stands out from the crowd. Mazda covers it in paint colors with unusual depth, too. We love their take on red — Soul Red Crystal Metallic — which has a gem-like character missing from a lot of modern car designs.
Check this week's Fair Purchase Price or see the Mazda CX-9 models for sale near you.
2023 Mitsubishi Outlander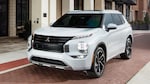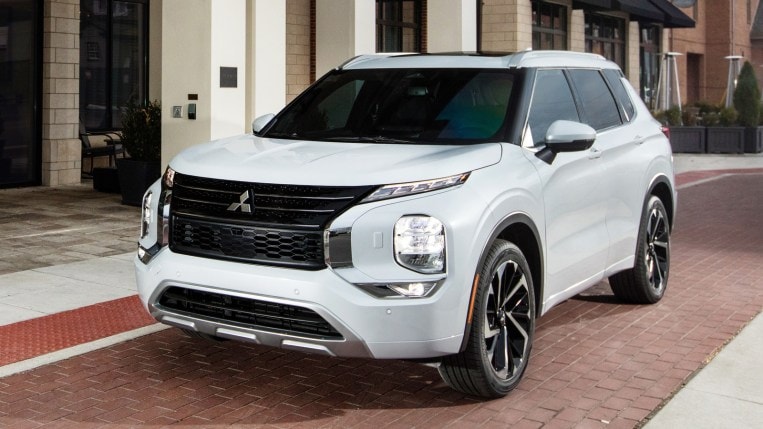 The 2023 Mitsubishi Outlander is something rare – an SUV with the proportions of a compact crossover but three rows of seating like a midsize SUV. That fits it into a niche few vehicles can accommodate. It has a surprisingly nice cabin for its price and a nice price – starting at just $27,595, plus $1,345 destination charge.
Mitsubishi Outlander Highlights
Much less expensive: The Outlander is smaller, but its price tag is much smaller. Starting at more than $11,000 less than the CX-9, it could save you thousands if you can easily live with its tidier proportions. Its tight third row makes it more of a 2-row SUV with a small third row for occasional use – but if that's what you need, this one could save you five figures.
Spend that savings on luxuries: A well-equipped Outlander can feel like a near-luxury car. Because its starting price is lower, the luxury trimmings are in reach for a lesser price tag. It even has a few options, like a high-tech head-up display and six driving modes, that aren't available at any price on the CX-9.
Plug-in hybrid (PHEV) option: Most Outlander models use the same 181-horsepower 4-cylinder engine. But Mitsubishi builds an Outlander PHEV with 248 horsepower and up to 38 miles of all-electric driving. Buying it erases the price advantage (it starts at $39,845). But it's like having an electric car for your daily driving needs and a gas-powered one when you need to leave town.
Check this week's Fair Purchase Price or see the Mitsubishi Outlander models for sale near you.
Similarities
Both can carry up to seven, offer comfortable, near-luxury cabins, and have well-reviewed all-wheel-drive systems (though it's optional on the Outlander)
Conclusion
Neither the Mazda CX-9 nor the Mitsubishi Outlander is the conventional answer for buyers looking for a 3-row SUV, but that's part of their appeal. The CX-9 is a great handling, fun-to-drive model despite its genuine 3-row size. The Outlander is far less expensive, but its third row isn't day-to-day useful for adults. Its fuel-efficient PHEV option, though, is something Mazda doesn't match (yet – look for it on the upcoming CX-90).
Both answers work. Which one suits your taste?
Specs
| | | |
| --- | --- | --- |
| | 2023 Mazda CX-9 | 2023 Mitsubishi Outlander |
| Starting Price | $38,750 | $27,595 |
| Popular Powertrains | | |
| Engine | 2.5-liter turbo 4-cylinder | 2.5-liter 4-cylinder |
| Horsepower | 227 hp @ 5,000 rpm | 181 hp @ 6,000 rpm |
| Torque | 310 lb-ft @ 2,000 rpm | 181 lb-ft @ 3,600 rpm |
| Transmission | 6-speed automatic | CVT |
| Fuel Economy | 20 city/26 hwy/23 combined mpg | 27 mpg (24 city/31 hwy) |
| Towing capacity | 3,500 pounds | 2,000 pounds |
| Specs | | |
| Basic warranty | 3 years/36,000 miles | 5 years/60,000 miles |
| Powertrain Warranty | 5 years/60,000 miles | 10 years/100,000 miles |
| NHTSA Overall Safety Rating | 5 stars | n/a |
| Max Seating Capacity | 7 | 7 |
| Wheelbase | 115.3 inches | 106.5 inches |
| Overall Length | 199.4 inches | 185.4 inches |
| Width | 77.5 inches | 74.7 inches |
| Height | 69.0 inches | 68.7 inches |
| Turning Diameter | 38.8 feet | 36.1 feet |
| Headroom, Front | 40.1 inches | 40.6 inches |
| Headroom, Rear | 38.5 inches | 39.1 inches |
| Headroom, 3rd Row | 35.4 inches | 34.5 inches |
| Legroom, Front | 41.0 inches | 41.7 inches |
| Legroom, Rear | 39.4 inches | 39.9 inches |
| Legroom 3rd Row | 29.7 inches | 18.7 inches |
| Shoulder Room, Front | 57.9 inches | 57.9 inches |
| Shoulder Room, Rear | 58.1 inches | 55.9 inches |
| Shoulder Room, 3rd Row | 53.1 inches | 51.2 inches |
| Cargo Volume | 14.4/38.2/71.2 cubic | 11.7/33.5/79.7 cubic feet |