Not every 3-row SUV has a lot of personality. Many seem interchangeable. But you can't say that about the Mazda CX-9 or the Subaru Ascent. These two family haulers bring real character to the class. Each can haul a family and their gear, and each has the added grip of all-wheel-drive (AWD). But each gets the job done with its own sense of style.
Let's dive into the differences.
2023 Mazda CX-9
Mazda is known, above all else, for fun-to-drive cars. Can the Japanese automaker really bring that athletic character to the larger proportions of a 3-row SUV? Yes. The 2023 Mazda CX-9 has all the family-hauling skills of the typical midsize SUV but adds a dash of hot sauce with tight handling and an upscale cabin feel. It starts at $38,750, plus $1,275 in destination charges.
Mazda CX-9 Highlights
Best-in-class handling: What do car critics mean when they talk about "road manners" and "handling characteristics"? It might be easiest to explain this way – you'll enjoy driving this car. The 2023 CX-9 is as big and bulky as any 3-row SUV. But, from behind the wheel, it doesn't feel like it. It feels like you're driving a smaller, more performance-oriented vehicle. Several years into owning a CX-9, you'll probably still like driving it. We can't say that about a lot of vehicles this size.
Luxury-like trimmings: Mazdas aren't priced like luxury cars, but they can feel like them. Our test driver says the CX-9's cabin "is a very nice place to be, with quality touches everywhere you look (and touch)." Standard leather seating is a nice touch – the Ascent's base trim gets basic cloth. The Mazda CX-9 can seat six or seven passengers, depending on configuration.
Best on-road handling in its class: The CX-9 feels so much more fun to drive than it has any right to at this size. Mazda engineers are chassis wizards. Our test driver said the CX-9 "doesn't drive like a 3-row SUV. Rather, it has the nimbleness and finesse of something smaller, and maybe even something that isn't even an SUV."
Sharp style: Most 3-row SUVs either look like blocky off-roaders or dowdy, like minivans without the convenience of sliding doors. Mazda designers somehow managed to design a 3-row vehicle that looks curvy and attractive. Great, deep jewel colors enhance the look.
Check this week's Fair Purchase Price or see the Mazda CX-9 models for sale near you.
2023 Subaru Ascent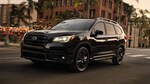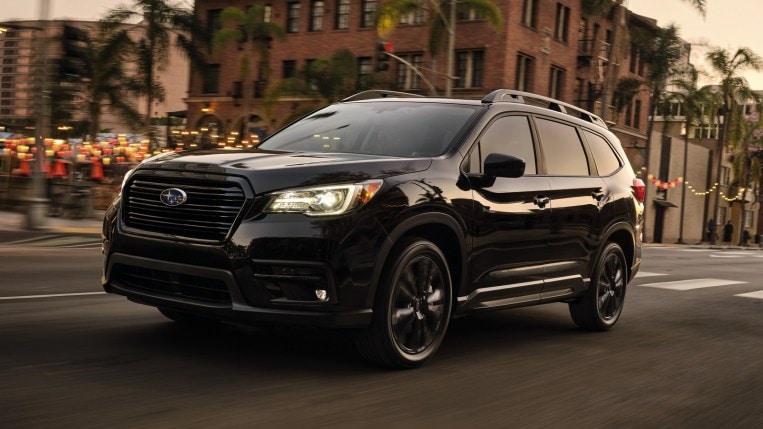 Subaru has a loyal army of buyers who love the brand's quirky REI-like styling, standard AWD, and consistent build quality. When their families grow big enough to need more than five seats, the 2023 Subaru Ascent is what Subaru offers them. It has the symmetrical AWD system they know and love, plus seating for up to eight and a reasonable starting price of $33,895.
Subaru Ascent Highlights
Lower price: The Ascent's starting price is more than $4,000 lower than the CX-9's. Subaru gets there with some basic features – remember those cloth seats? But that's what some shoppers are looking for.
That Subaru cred: Many Subaru buyers are after an outdoorsy image and a certain driving feel that comes from a boxer engine mounted low and close to the road, plus Subaru's unique symmetrical AWD system. If that's what you love, the Ascent is the only 8-seater that offers it.
Off-road chops: Both of these SUVs come with standard AWD, and both can handle slippery conditions and mild off-roading. But Subaru throws in features like hill descent control and scratch-resistant fender cladding that show the Ascent is meant to compete with genuine off-roaders. Mazda doesn't do that with the CX-9. If you want that Mazda driving feel and a bit more off-road capability, however, Mazda may have an answer for you soon. Keep your eyes peeled for the upcoming CX-90, which might even out this fight on the trail.
Check this week's Fair Purchase Price or see the Subaru Ascent models for sale near you.
Similarities
They both earn five stars in government safety tests and are almost certain to earn the Insurance Institute for Highway Safety's Top Safety Pick+ honor (both won it in 2022, and neither has seen significant changes that could upset that). They each get 23 mpg in combined driving.
Conclusion
In a world of look-alike, drive-alike 3-row SUVs, the 2023 Mazda CX-9 and Subaru Ascent offer distinctive options. Driving the CX-9 on the road feels great, though it can handle its business in the mud, too. The Ascent gives you confidence off-road, though its handling on the pavement is nothing to be ashamed of. Choosing between these two may be a matter of style – sophisticated urban boots or chunky hiking boots?
Both answers work. Which one suits your taste?
Specs
| | | |
| --- | --- | --- |
| | 2023 Mazda CX-9 | 2023 Subaru Ascent |
| Starting Price | $38,750 | $33,895 |
| Popular Powertrains | | |
| Engine | 2.5-liter turbo 4-cylinder | 2.4-liter turbocharged 4-cylinder |
| Horsepower | 227 hp @ 5,000 rpm | 260 hp @ 5,600 rpm |
| Torque | 310 lb-ft @ 2,000 rpm | 277 lb-ft @ 2,000-4,800 rpm |
| Transmission | 6-speed automatic | CVT |
| Fuel Economy | 20 city/26 hwy/23 combined mpg | 21 city/27 highway/23 combined mpg |
| Towing capacity | 3,500 pounds | 5,000 pounds |
| Specs | | |
| Basic warranty | 3 years/36,000 miles | 3 years/36,000 miles |
| Powertrain Warranty | 5 years/60,000 miles | 5 years/60,000 miles |
| NHTSA Overall Safety Rating | 5 stars | 5 stars |
| Max Seating Capacity | 7 | 8 |
| Wheelbase | 115.3 inches | 113.8 inches |
| Overall Length | 199.4 inches | 196.8 inches |
| Width | 77.5 inches | 76.0 inches |
| Height | 69.0 inches | 71.6 inches |
| Turning Diameter | 38.8 feet | 38.0 feet |
| Headroom, Front | 40.1 inches | 41.3 inches |
| Headroom, Rear | 38.5 inches | 40.0 inches |
| Headroom, 3rd Row | 35.4 inches | 36.2 inches |
| Legroom, Front | 41.0 inches | 42.2 inches |
| Legroom, Rear | 39.4 inches | 38.6 inches |
| Legroom 3rd Row | 29.7 inches | 31.7 inches |
| Shoulder Room, Front | 57.9 inches | 61.1 inches |
| Shoulder Room, Rear | 58.1 inches | 60.3 inches |
| Shoulder Room, 3rd Row | 53.1 inches | 57.0 inches |
| Cargo Volume | 38.2/71.2 cubic | 47.5/86.5 cubic feet |
Source link