The affordable compact car class is full of gems — comfortable, reasonably priced cars that, if you haven't been car shopping in a few years, are probably more high-tech and fun to drive than you expect. The 2023 Mazda3 has a reputation as the great driver's car of the group. The 2023 Honda Civic has a reputation as the well-rounded value of the class. But both might be better than you think.
Let's dive into what makes these two cars different. Note that both of these cars are available as hatchbacks, but this comparison looks into their sedan variants.
2023 Mazda3
Mazda's public image is built on athleticism. The 2023 Mazda3 is the least expensive new vehicle you'll find at your local Mazda dealership, with a starting price of just $22,550. But it defies its affordable price tag with a cabin that feels premium and a driving experience geared toward fun.
Mazda3 Highlights
Torque vectoring for precise handling: Torque vectoring is a technology usually found in luxury cars, but Mazda has made it affordable. The tech varies the power going to the wheels, braking the inside wheels in turns to let the car slalom with limited body roll. It's a delight in the Mazda3, making this the one to choose if you love to drive.
Available all-wheel drive: Mazda also defies what's normal in this class with its available all-wheel-drive (AWD) system. Its added grip makes the Mazda3 a great choice if the weather regularly brings slippery roads to your commute. All-wheel drive is standard on turbo models.
Optional 250-hp turbocharged engine: The standard engine in the Mazda3 is more powerful (191 horsepower) than the standard engine in the Honda Civic (158). But it's not the one you want if you're interested in power. Mazda's optional 2.5-liter turbocharged 4-cylinder is unlike anything else in the affordable compact car class.
Check this week's Fair Purchase Price or see the Mazda3 models for sale near you.
2023 Honda Civic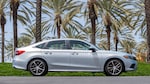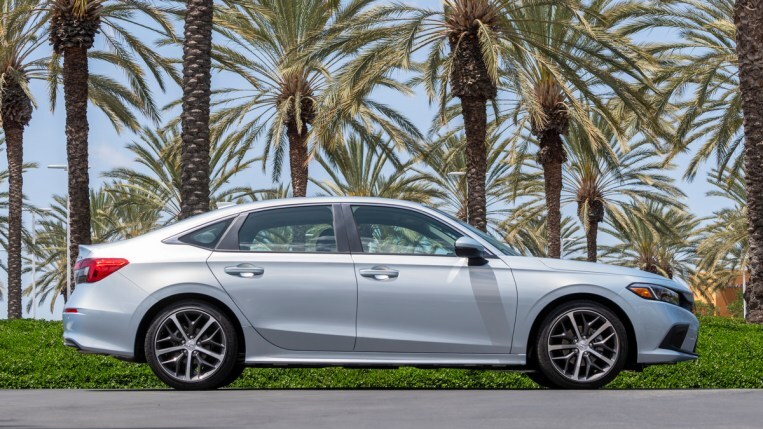 The Honda Civic turned 50 last year — a longevity few cars can match. Honda got there by establishing a reputation for reliable cars worth their prices and sticking with that successful formula for generations. Today's Civic was all-new last year, so it needed few updates for 2023. Prices start at $25,050.
Honda Civic Highlights
Upscale, stylish cabin: Both of these cars have lovely interiors, but the Civic's has a design flair nothing else in the class can match. A cool honeycomb panel bisecting the dashboard horizontally makes it look sophisticated. It's more spacious than the Mazda3 in almost every measurement, too.
Available high-performance models: The Mazda3 may have a reputation as a fun-to-drive car even in base form, but it's the Civic that offers multiple high-performance trims. The Civic Si offers a more immersive drive for additional money, and the Civic Type R is a track-ready variant, though its $43,295 starting price puts it out of reach of many buyers.
More storage space: The Civic offers significantly more trunk space than the Mazda3. That's a particularly strong consideration if you plan to road trip your new compact car often.
Check this week's Fair Purchase Price or see the Honda Civic models for sale near you.
Similarities
The Mazda3 and Honda Civic are similarly priced compact cars available with modest 4-cylinder engines or something more powerful. Each has Apple CarPlay and Android Auto as standard equipment, ample safety features, and they carry identical warranties.
Conclusion
The Mazda3 and Honda Civic have been battling near the top of the affordable compact car class for almost 20 years, and 2023 is no exception. You'd probably enjoy owning either one, and their vital statistics are similar. The Mazda3 is a little more fun in the turns if your regular driving routes let you take advantage of that, or the one to pick if you want all-wheel drive. The Civic has a slightly dressier, more updated cabin. If you pit base models of the two against each other on the track, the Mazda3 would probably come away with the win. But buyers who want a fast one has high-performance Civic options they can choose from. They're both great choices that meet similar needs.
Specs
| | | |
| --- | --- | --- |
| | 2023 Mazda3 | 2023 Honda Civic |
| Starting Price | $22,550 | $25,050 |
| Popular Powertrains | | |
| Engine | 2.5-liter 4-cylinder | 2.0-liter 4-cylinder |
| Horsepower | 191 hp @ 6,000 rpm | 158 hp @ 6,500 rpm |
| Torque | 186 lb-ft @ 4,000 rpm | 138 lb-ft @ 4,200 rpm |
| Transmission | 6-speed automatic | CVT |
| Fuel Economy | 28 city/37 highway mpg | 30 city/37 highway mpg |
| Also Available | 250-horsepower turbocharged engine, AWD, 6-spd manual transmission (hatchback) | 1.5-liter turbo 4-cylinder; 6-spd manual; hatchback, high-performance Si and Type R editions |
| Specs | | |
| Basic Warranty | 3 years/36,000 miles | 3 years/36,000 miles |
| Powertrain Warranty | 5 years/60,000 miles | 5 years/60,000 miles |
| Max Seating Capacity | 5 | 5 |
| Wheelbase | 107.3 inches | 107.7 inches |
| Overall Length | 183.5 inches | 183.3 inches |
| Width | 70.7 inches | 70.9 inches |
| Height | 56.9 | 55.7 inches |
| Turning Diameter | 34.8 feet | 38.1 feet |
| Headroom, Front | 38.0 inches | 39.3 inches |
| Headroom, Rear | 37.3 inches | 37.1 inches |
| Legroom, Front | 42.3 inches | 42.3 inches |
| Legroom, Rear | 35.1 inches | 37.4 inches |
| Shoulder Room, Front | 55.7 inches | 57.0 inches |
| Shoulder Room, Rear | 53.5 inches | 56.0 inches |
| Cargo Volume | 13.2 cubic feet | 14.8 cubic feet |