Nissan hasn't announced pricing for 2023. The 2022 Versa starts at $15,580, plus $1,095 for delivery.
The Versa gets a new nose and several interior tweaks for the new model year.
Many automakers have abandoned the most affordable car segment — but not Nissan. Nissan has just improved its subcompact car for the new model year. The 2023 Nissan Versa gets an updated look and some new features, though most remain optional in keeping with its bare-bones theme. We're still waiting on pricing to find out how it competes with the few remaining sub-$20,000 cars.
This is not a full redesign — just a nip-and-tuck job to update the car inside and out.
A Design Update That Doesn't Look Gawky
The 2023 Versa has a new face. It's not bad. That's saying something.
Most subcompact cars look awkward. Automakers tend to adopt similar styling across their lineups (the industry term for this is "design language") to give them a common brand identity. But the design elements that look attractive on midsize cars and SUVs often look caricatured when shrunk down to subcompact size.
The 2023 Versa mostly escapes that curse. The low, where's-the-bumper grille Nissan calls "V-motion" scales reasonably well to subcompact size. We're still concerned it could make even minor parking lot bumps into expensive repair jobs, but it's a sharp look.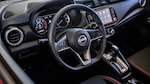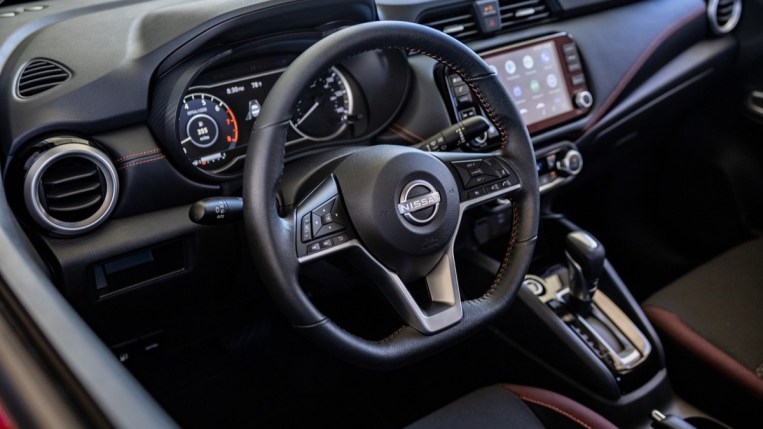 Armrests and Options Packages
Nissan has not given the Versa an interior refresh. But each of the three available trims has picked up a few new features, though many are added-cost options.
The base S model is now available with an S Plus package that adds Apple CarPlay, Android Auto, and a 60/40-split folding rear seat. The mid-level Versa SV now comes standard with an armrest and a wireless charging pad.
The top-of-the-line Vera SR also gets the armrest, as well as an 8-inch touchscreen (replacing the 7-inch display screen in lower trims), automatic climate control, and a Wi-Fi hot spot (which requires a data subscription).
Nissan hasn't updated the Versa's drivetrain. It retains a 122-horsepower 4-cylinder engine and a continuously variable automatic transmission (CVT) that won't impress anyone. But that basic transportation set keeps up with its dwindling competition.
Cheap and Cheerful Cars Are an Endangered Species
The Versa is one of the last subcompact cars available in America. For 2023, Chevrolet canceled its little Spark, which had been the least expensive new car in America. Hyundai ended its subcompact Accent for 2023 as well.
That leaves just the Versa, the 2023 Kia Rio, and the 2023 Mitsubishi Mirage competing for the attention of car shoppers who want to get from point A to point B under warranty for as little money as possible. The Mirage is the current bargain champ, with its $16,245 sticker (plus $995 destination and handling). Nissan hasn't announced pricing for the new Versa, so we don't know if it will take the budget title.
Source link