Compact SUV shoppers have been choosing between the Honda CR-V and the Subaru Forester since Bill Clinton was in the White House. They've both been around long enough that many of us are familiar with their charms and their limitations.
But they get refreshed now and then, and the score between them changes. The CR-V is all-new for 2023, with more rugged good looks and a hybrid powertrain at higher trim levels. The Forester was last redesigned for 2019. The current generation has been around long enough for Subaru to perfect the little things.
Let's take a close look at how the all-new CR-V and the journeyman Forester stack up.
2023 Subaru Forester
Subaru has won our Most Trusted Brand Award eight years in a row because it has such a proven approach to building cars. Most Subarus feature the brand's well-known symmetrical all-wheel drive (AWD) and a low-mounted boxer engine that keeps the weight low for a planted feel. The layout makes an off-road-capable SUV that drives like a car on the asphalt. The Subaru Forester is one of the most cost-effective ways to get that great setup. It starts at $26,395.
Subaru Forester Highlights
Standard AWD: Honda will build you an AWD CR-V, but you'll pay extra for it. Every Subaru (not counting the BRZ, which is really a Toyota spending the night at a Subaru dealership) powers all four wheels at no added cost.
Lower starting price: Honda recently realized it was pricing out many customers and brought back the inexpensive LX trim to many vehicles. That brought the CR-V's price down to… a little over $2,000 more than the Forester. Oof.
Rugged character: Americans buy cars for all kinds of reasons. Yours are probably a little practical and a little emotional. Subarus just have a certain appeal most brands don't. They look natural with a canoe on the roof. They say that your priorities include adventure. Dogs like 'em. If that's what you want, you'll feel affection for your Forester as you walk up to it, even in year five. Not every car makes a claim on the heart quite like that.
Check this week's Fair Purchase Price or see the Forester models for sale near you
2023 Honda CR-V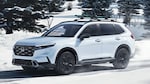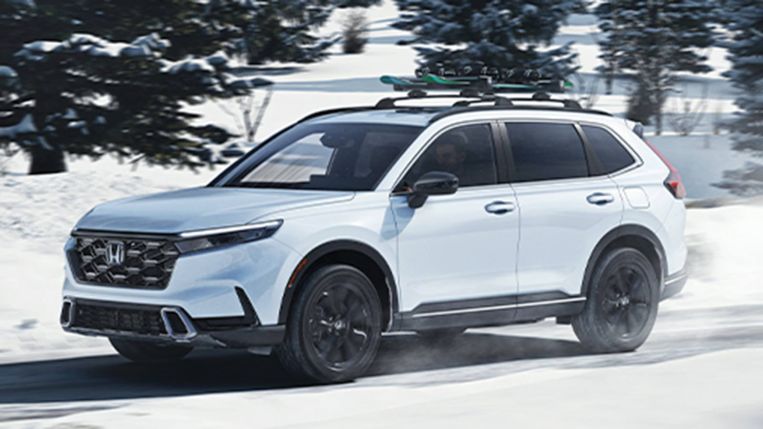 Most months, Americans buy more Honda CR-Vs than almost any other model of compact SUV. It's a multi-talented vehicle with a great resale value that's hard to beat in the long run. The CR-V is all-new for 2023, with the same well-rounded character it's long been known for, wrapped in a new, more handsome style. Pricing starts at $28,410 now that the back-to-basics LX trim has made a comeback.
Honda CR-V Highlights
It's dressier: The CR-V hasn't traditionally been known for its great looks. But that has changed for 2023. The new model looks sophisticated in a way few cars from mainstream automakers do. Change the grille, and you could almost believe it was a design from a European luxury brand. That's rare, with a starting price under $30,000.
Optional hybrid power: Honda has taken a unique approach to hybrid power this year. As you might expect, the CR-V's higher trim levels are more powerful than the lower trims. However, as hybrids they're also more fuel efficient, with up to 40 mpg in front-wheel-drive versions.
Traffic Jam Assist: If your driving routines routinely put you in bumper-to-bumper traffic, Honda's Traffic Jam Assist technology might make the CR-V the right pick. It can make slight steering corrections, speed up, and slow down to keep its position in traffic below 45 mph. That makes traffic less draining.
Check this week's Fair Purchase Price or see the CR-V models for sale near you
Similarities
Manufacturers roll out new compact SUVs all the time. The Forester and CR-V may be unique for the fact that they're old, familiar names. Both are solid, reliable vehicles with long-established reputations. Both have great resale value and similar levels of power and passenger space.
Conclusion
It's hard to go wrong with this choice. Your new Forester might feel a bit more outdoorsy. Your new CR-V might feel a bit more refined. But either one will likely meet most of your needs, hold its value well, and present you with few long-term problems. We might make this decision on purely emotional grounds because both choices check every box in practical terms.
That leaves the right choice for you a matter of taste.
Specifications
| | | |
| --- | --- | --- |
| | 2023 Subaru Forester | 2023 Honda CR-V |
| Starting Price | $26,395 | $28,410 |
| Popular Powertrains | | |
| Engine | 2.5-liter 4-cylinder | 1.5-liter turbocharged 4-cylinder |
| Horsepower | 182 @ 5,800 rpm | 190 hp @ 6,000 rpm |
| Torque | 176 @ 4,400 rpm | 179 lb-ft @ 5,000 rpm |
| Transmission | CVT | CVT |
| Fuel Economy | 26 city/33 highway/29 combined mpg | 28 city/34 highway/30 combined mpg |
| Also Available | | 2.0-liter hybrid; AWD |
| Specs | | |
| Basic Warranty | 3 years/36,000 miles | 3 years/36,000 miles |
| Powertrain Warranty | 5 years/60,000 miles | 5 years/60,000 miles |
| NHTSA Overall Safety | 5 stars | TBD |
| Max Seating Capacity | 5 | 5 |
| Wheelbase | 105.1 inches | 106.3 inches |
| Overall Length | 182.7 inches | 184.8 inches |
| Width | 71.5 inches | 73.5 inches |
| Height | 67.5 inches | 66.2 inches |
| Turning Diameter | 35.4 feet | 37.3 feet |
| Headroom, Front | 41.2 inches | 38.2 inches |
| Headroom, Rear | 39.6 inches | 38.2 inches |
| Legroom, Front | 43.3 inches | 41.3 inches |
| Legroom, Rear | 39.4 inches | 41.0 inches |
| Shoulder Room, Front | 58.1 inches | 57.9 inches |
| Shoulder Room, Rear | 57.2 inches | 55.9 inches |
| Cargo Volume | 28.9/74.2 cubic feet | 39.3/76.5 cubic feet |