Our expert test drivers find a lot to like in the 2023 Kia Niro. It blends the strengths of a wagon and SUV with handsome styling, plenty of passenger and cargo space, and an easy-to-load low cargo floor. Redesigned for 2023, it's distinctive. Unique "aero blades" at the rear pillar, available in a contrasting color from the rest of the bodywork, make it stand out in a parking lot.
It's sharp-looking inside, too. Kia's current design language, with the driver's information screen and central touchscreen mounted together, looks like something out of a luxury car. Available alloy sport pedals lend it a sporty look, too.
But perhaps the most unique feature of the Niro is that it's not one car. It's effectively a lineup of cars. Kia offers its small SUV as a hybrid, a plug-in hybrid (PHEV), or a pure electric vehicle (EV).
No other 2023 car has as many options.
How do you decide which one is right for you?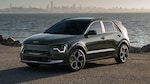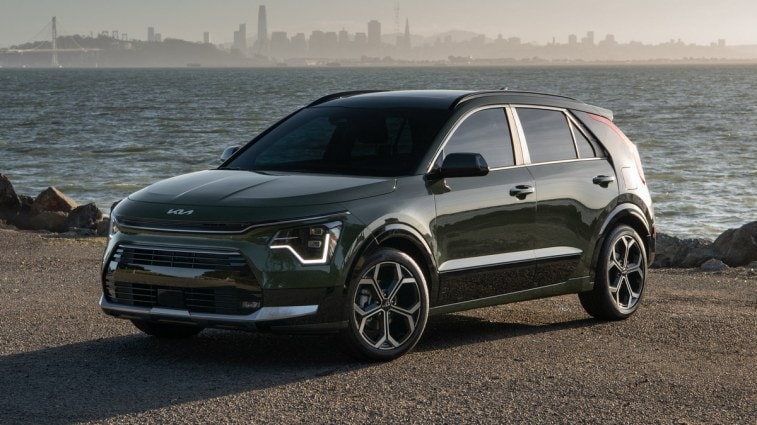 2023 Kia Niro Hybrid
Starting price: $26,590
The Niro Hybrid uses a 1.6-liter turbocharged four-cylinder engine mated to an electric motor running off a small lithium-ion battery. Power goes through a 6-speed dual-clutch automatic transmission. It's good for 53 mpg in combined driving — one of the most fuel-efficient hybrids on the market.
Kia builds the Niro Hybrid in five trim levels, ranging from a well-equipped LX to an SX Touring with near-luxury features like heated and ventilated vegan leather seats, a heated steering wheel, and LED projector headlights.
Who Should Buy It: The Niro Hybrid gets you excellent fuel economy without the need to charge. It's a great choice for those who don't have access to home charging but still want to save money at the pump. It's also the least expensive Niro. Kia's 10-year/100,000-mile powertrain warranty can provide predictable transportation expenses for a decade. Shoppers looking for value will find it here.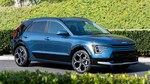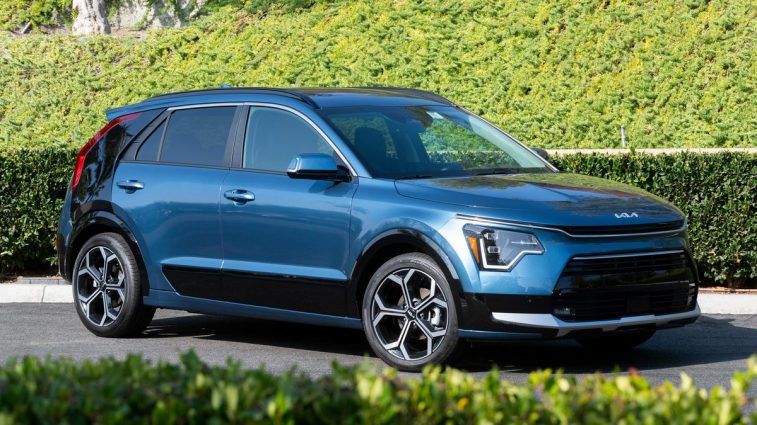 2023 Kia Niro PHEV
Starting price: $33,840
A PHEV can travel all the way up to its top speed on electric power alone. It switches to gasoline only after its battery is depleted. So owning one is like owning two cars at once — an electric car for daily needs and a gas-powered car for long trips.
The Niro PHEV gets up to 33 miles of electric range. Few Americans drive more than 33 miles on an average day. Odds are good that, if you owned a Niro PHEV, you'd use cheaper electricity for most of your trips and spend gas money rarely.
So, while it costs more upfront, Niro PHEV ownership costs can be lower over time. The Niro PHEV also has more power than the gas-powered model — 180 horsepower.
Who Should Buy It: The Niro PHEV is the right answer for anyone looking to go electric yet unsure about making the switch. But it might be the right answer for other buyers, too. In many ways, this is the sweet spot in the Niro lineup. It costs less than going full-electric and gives you almost all of the advantages of an EV without range anxiety.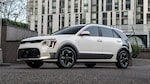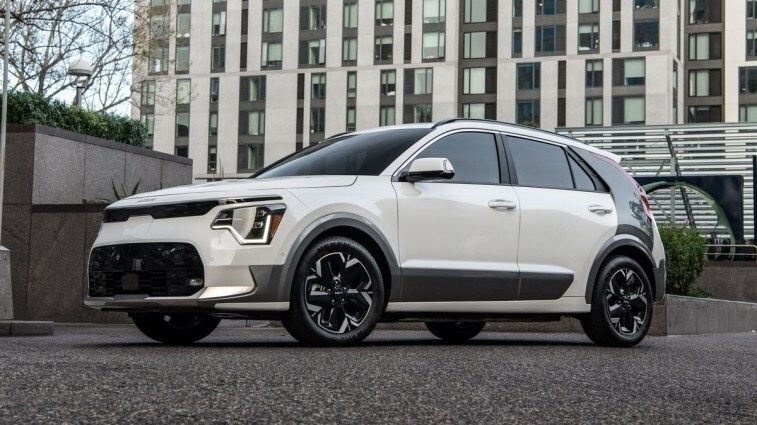 2023 Kia Niro Electric
Starting price: $39,550
The Kia Niro EV has an all-electric range of up to 253 miles. A home charger with a 240-volt supply can refill its battery in less than 7 hours. That makes it an easy EV to live with — charge while you sleep at night and get through your daily routines on electricity alone.
At 201 horsepower, it's the most powerful Niro. Kia has tuned its electric motors to offer most of that power early. Our test driver says, "0-30 mph might well be the most entertaining phase" of the drive.
Kia has to charge higher prices for an EV to make up for the research and development costs of a new technology. But they justify it with an extensive list of features — even the least-expensive Niro EV has heated seats wrapped in SynTex synthetic leather, power seat adjustments, a smart power tailgate, and more.
Who Should Buy It: The Niro EV is right for shoppers ready to take the electric plunge and looking for a practical EV with a great warranty.