If you're looking for a vehicle that scratches a little bit of every itch, you might end up with a compact SUV. They carry lower prices than larger luxury vehicles but offer many of the same amenities. They handle with more athleticism than most affordable cars but offer the passenger and cargo space you associate with SUVs. And designers work to give them panache.
The 2023 Acura RDX and Mercedes-Benz GLB are perfect examples. Both are more capable and probably more affordable than you might think. Let's see how they compare.
2023 Acura RDX
The 2023 Acura RDX combines sharp good looks with impressive room for a compact vehicl, plus responsive steering. Available Super Handing All-Wheel Drive makes it both more stable in bad weather and more fun on a dry road. Prices start at $41,550.
Acura RDX Highlights 
Engaging drive with lots of power: Both of these SUVs use 2.0-liter turbocharged 4-cylinder engines. So why is one so much quicker than the other? Acura gets 51 more horsepower out of that formula, and the two weigh very similar amounts. That makes the RDX a bit more fun for your right foot.
Bigger screen: Both use a central touchscreen to control entertainment and climate functions. But Acura gives you a 10.2-inch screen even on the base model. Mercedes gives you a 7-inch screen that looks out of place in a luxury vehicle unless you step up to higher trim levels.
More impressive audio upgrade: Mercedes' Burmester audio systems have nothing to be ashamed of. But the optional premium system in the GLB has 12 speakers and 590 watts. Acura, with its A-Spec package, offers a 16-speaker, 710-watt system developed by a Grammy-winning record engineer. It's not often that a rival outclasses Mercedes on an interior tech element, but your favorite music will sound better in the RDX.
Check this week's Fair Purchase Price or see the Acura RDX models for sale near you.
2023 Mercedes-Benz GLB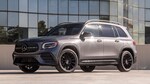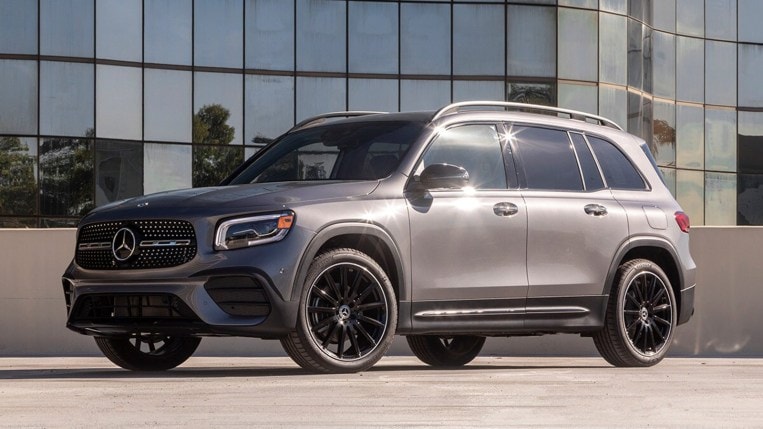 Few people have ever been disappointed in their new Mercedes-Benz. Mercedes designers, in 2023, are putting together some of the best interiors in the business, and the 2023 Mercedes-Benz GLB is no exception. It also offers a feature rare in this segment – a third row. It's not big enough for frequent use, but gives you options most rivals don't. Prices start at $39,800.
Mercedes-Benz GLB Highlights 
Stunning interior: The RDX's cabin will give you the luxury car experience. But the GLB's cabin looks and feels like it was designed by some of the world's most tasteful artisans. Buyers have a choice of eight upholstery colors and four types of hard trim. We're particular fans of the Bahia Brown textured leather.
Optional third row: Think about how you'll use your new SUV. If a third row will help you run more kids home from soccer practice or bring an extra colleague to lunch, Mercedes can help you. Acura can't. The GLB's third row isn't a place we'd ask someone we care about to spend a lot of time. If you're going to carry more than five adults regularly, look at bigger vehicles. But for occasional use, it's fine.
Available AMG model: You can upgrade an RDX with Super Handling All-Wheel Drive and get a fun-to-drive vehicle. But Mercedes' AMG in-house performance shop produces models on an entirely different plane. The AMG GLB 35 will cost you – prices start at $51,500. But it squeezes 302 horsepower out of the engine, mates it to a snappier dual-clutch 8-speed transmission, stiffens the chassis with extra bracing, tightens up steering ratios – you know, the sort of thing a manufacturer with a long history of Formula 1 racing does to a compact SUV. A base-model RDX would probably outrun a base-model GLB, but an AMG-tuned GLB would run laps around the fastest RDX.
Check this week's Fair Purchase Price or see the Audi Q5 models for sale near you.
Similarities 
These two have all the similarities of two vehicles in the same class – similar sizes, similar powertrains, etc. – but are surprisingly different in the details.
Conclusion 
The 2023 Acura RDX is fun-to-drive even in its least-expensive form, looks fantastic, and can be packed with high-end technologies like a great audio system and a larger touchscreen. The Mercedes-Benz GLB is a more flexible platform, available with three rows and even in a high-performance edition.
Either one could keep you satisfied for years.
Specifications  
| | | |
| --- | --- | --- |
| | 2023 Acura RDX | 2023 Mercedes-Benz GLB |
| Starting Price | $41,550 | $39,800 |
| Popular Powertrains | | |
| Engine | 2.0-liter turbo 4-cylinder | 2.0-liter turbo 4-cylinder |
| Horsepower | 272 hp @ 6,500 rpm | 221 hp @ 5,500 rpm |
| Torque | 280 lb-ft @ 1,600 rpm | 258 lb-ft @ 1,800 rpm |
| Transmission | 10-spd automatic | 8-spd automatic |
| Fuel Economy | 24 mpg (22 city/28 hwy) | 26 mpg (23 city/31 hwy) |
| Also Available | AWD | AWD |
| Specs | | |
| Basic warranty | 4 years/50,000 miles | 4 years/50,000 miles |
| Powertrain Warranty | 6 years/70,000 miles | 4 years/50,000 miles |
| NHTSA Overall Safety Rating | 5 stars | 5 stars |
| Max Seating Capacity | 5 | 7 |
| Wheelbase | 108.3 inches | 111.4 inches |
| Overall Length | 187.4 inches | 182.4 inches |
| Width | 74.8 inches | 72.2 inches |
| Height | 65.7 inches | 65.3inches |
| Turning Diameter | 38.9 feet | 38.4 feet |
| Headroom, Front | 40.0 inches | 40.7 inches |
| Headroom, Rear | 38.0 inches | 39.3 inches |
| Legroom, Front | 42.0 inches | 41.4 inches |
| Legroom, Rear | 38.0 inches | 38.1 inches |
| Shoulder Room, Front | 60.0 inches | 55.9 inches |
| Shoulder Room, Rear | 57.0 inches | 54.9 inches |
| EPA Passenger Volume | 104.0 cubic feet | n/a |
| EPA Cargo Volume | 29.5/58.9 cubic feet | 20.1/62.0 cubic feet |
Source link