Buying an SUV doesn't have to mean pain at the pump. Some of today's compact SUVs have as much space as the midsize SUVs of just a few years ago. Some also have hybrid powertrains that give you sedan-like gas mileage with SUV cargo space.
The Honda CR-V comes in both gas-powered and hybrid forms. The most well-equipped models, however, get a fuel-efficient hybrid powertrain. The Kia Niro comes as a hybrid, a plug-in hybrid, and an all-electric vehicle. Let's see how these two hybrid versions compare.
2023 Honda CR-V Hybrid
The Honda CR-V is one of the best-known compact SUVs, with a nearly 30-year history of reliability and cost-effectiveness. Honda has given the world an all-new CR-V for 2023, with a handsome, upscale look and a cabin that feels more premium than its price. The Sport ($32,950) and Sport Touring ($39,100) versions both use a hybrid drivetrain that combines a 2.0-liter 4-cylinder engine and an electric motor rated for a total of 204 horsepower.
Honda CR-V Hybrid Highlights
Serious space: The CR-V is more than 10 inches longer than the Niro, which helps give it nearly 14 cubic feet more cargo space. Rear-seat passengers get a bit more legroom from the added length, but the added cargo space is the real benefit.
Passing power: Hybrids used to have a reputation as nerdy, fuel-efficient cars that struggled to pass on the highway. That's no longer the case. Now, two kinds of power can just mean more power. The CR-V Hybrid has a full 204 horsepower — a lot for the compact SUV class and 65 more than the Niro.
Available all-wheel-drive: If you're shopping for an SUV because you need something that can go off-road or handle an icy winter, the CR-V is available with all-wheel drive (AWD). It adds $1,500 to the purchase price. But the Niro doesn't offer it at any price.
Check this week's Fair Purchase Price or see the Honda CR-V Hybrid models for sale near you.
2023 Kia Niro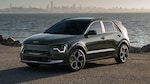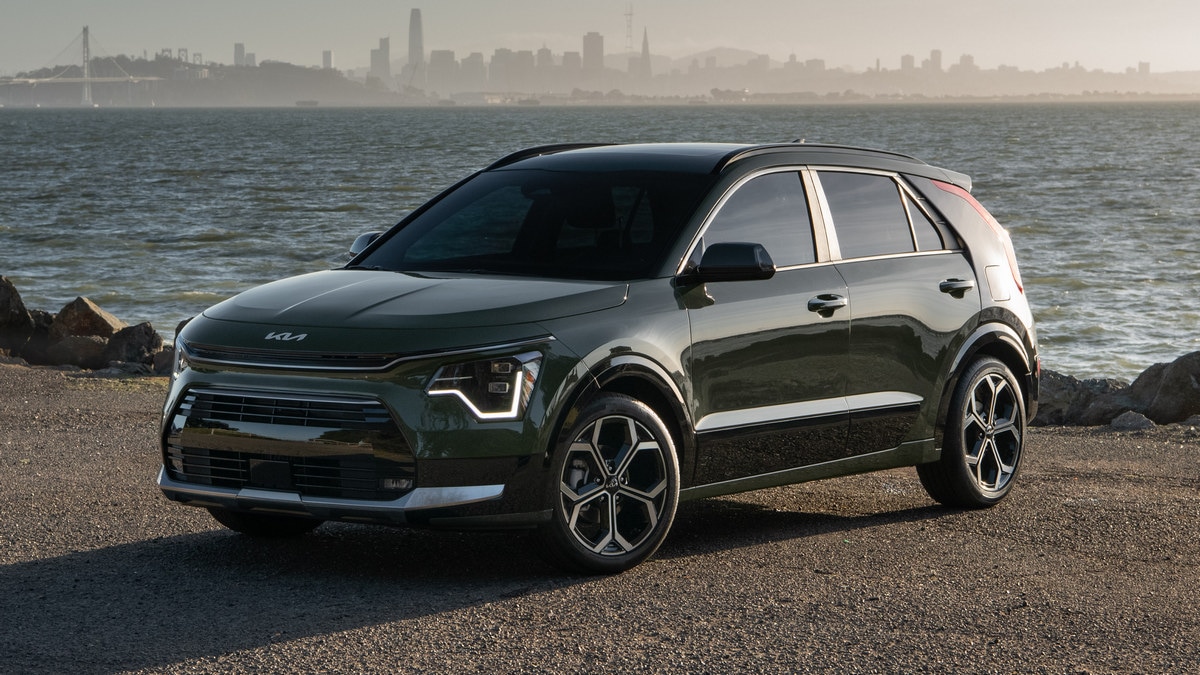 All-new for 2023, the Kia Niro is a lineup of small SUVs with more than one model. Hybrid, plug-in hybrid, and electric versions give buyers several ways to save at the gas pump. A cool contrast-color "aero blade" rear pillar gives it a bit of visual personality. Niro Hybrid models use a 1.6-liter 4-cylinder engine coupled with a lithium-ion battery and an electric motor with a combined 139 horsepower. Prices start at just $26,590, climbing into the mid-$30,000 range when fully equipped.
Kia Niro Highlights
Real hybrid fuel economy: The Niro beats the CR-V Hybrid in the city, getting 53 mpg to the Honda's 43. It also beats it on the highway, getting 45 to the CR-V's 36. If you're shopping for a hybrid because you're tired of fluctuating gas prices hitting your budget so hard, those numbers save you a lot over years of ownership.
The industry's best warranty: Kia cars have taken a big leap in quality in recent years, but the company hasn't abandoned the long warranties that first made them appealing. The Niro's powertrain is protected for up to 10 years or 100,000 miles — a far better financial proposition than the CR-V's five years or 60,000 miles.
Lower price: The all-new Niro looks premium, with narrow LED lighting and that cool two-tone "aero blade" look. But it doesn't have to carry a premium price tag. Starting at just $26,590, it's available for thousands of dollars less than the CR-V.
Check this week's Fair Purchase Price or see the Kia Niro hybrid models for sale near you.
Similarities
The 2023 Honda CR-V Hybrid and Kia Niro both offer hybrid drivetrains, similar passenger space, and upscale trim levels that give them a premium cabin feel.
Conclusion
If you're shopping for a compact SUV that won't leave you paying too much at the gas pump, either the 2023 Honda CR-V Hybrid or the Kia Niro could fit the bill. The CR-V gives you more power, more space, and an optional AWD grip. The Niro answers with a lower starting price, a longer warranty, and more of that hybrid fuel economy that probably pointed you to this comparison in the first place. But it compromises on power and space to get there.
Specifications
| | | |
| --- | --- | --- |
| | 2023 Honda CR-V Hybrid | 2023 Kia Niro |
| Starting Price | $32,950 | $26,590 |
| Popular Powertrains | |   |
| Engine | 2.0-liter hybrid 4-cylinder | 1.6-liter hybrid 4-cylinder |
| Horsepower | 204 hp @ 6,100 rpm | 139 hp @ 5,700 rpm |
| Torque | 247 lb-ft @ 0-2,000 rpm | 195 lb-ft @ 4,000 rpm |
| Transmission | CVT | 6-spd dual-clutch automatic |
| Fuel Economy | 43 city/36 hwy mpg | 53 city/45 hwy mpg |
| Also Available | AWD | PHEV, EV |
| Specs | |   |
| Basic Warranty | 3 years/36,000 miles | 5 years/60,000 miles |
| Powertrain Warranty | 5 years/60,000 miles | 10 years/100,000 miles |
| NHTSA Overall Safety Rating | TBD | TBD |
| Max Seating Capacity | 5 | 5 |
| Wheelbase | 106.3 inches | 107.1 inches |
| Overall Length | 184.8 inches | 174.0 inches |
| Width | 73.5 inches | 71.9 inches |
| Height | 66.2 inches | 60.8 inches |
| Turning Diameter | 37.3 feet | 34.8 feet |
| Headroom, Front | 38.2 inches | 40.5 inches |
| Headroom, Rear | 38.2 inches | 39.6 inches |
| Legroom, Front | 41.3 inches | 41.5 inches |
| Legroom, Rear | 41.0 inches | 39.8 inches |
| Shoulder Room, Front | 57.9 inches | 56.3 inches |
| Shoulder Room, Rear | 55.9 inches | 55.4 inches |
| Cargo Volume | 39.3/76.5 cubic feet | 22.8/63.7 cubic feet |
Source link