A 3-row midsize SUV makes the ultimate family vehicle. It can carry seven to eight people and all the necessary accouterments for a road trip. Most offer all-wheel drive (AWD) to handle almost any weather. And they can be surprisingly fuel-efficient for their size.
The Honda Pilot is one of the most well-known names in this game. But it's all-new for 2023, with rugged good looks and a cabin full of convenient, good ideas. The Mazda CX-9 is a long-running favorite known for sharp handling despite its size and sophisticated good looks.
Let's see what might make a shopper prefer one over the other.
2023 Honda Pilot
The Honda Pilot long had a reputation as a minivan alternative without minivan looks. A brand new design for 2023 has ended that faint praise, with rugged good looks and an off-road capable TrailSport model. But all the convenience is still here. This month, prices start at $39,150, though an inexpensive LX model will reach dealers soon and drive that down to just $35,950.
Honda Pilot Highlights
Powerful V6: There's just one engine available in the Pilot, but one is all it needs. A 285-horsepower V6, it's more powerful than most in this class. It overpowers the CX-9's 227-horsepower V6 easily.
Rugged SUV capability: The last-generation Pilot was a bit of a pavement princess. This new one is made for harder work. Towing capacity of up to 5,000 pounds (with optional all-wheel drive) and an off-road-capable TrailSport model take it places some family-friendly SUVs can't go.
More capacity: What good is the ability to carry a family full of people if you can't bring their bags along with them? The Pilot has more cargo space than the CX-9 in every configuration, from all seats up to all seats down. It also has a clever (but optional) second-row setup that lets you hide the bench's center seat in the floor to create two roomy captain's chairs on the fly. The Pilot boasts a max seating capacity of eight, vs. the CX-9's seven.
Check this week's Fair Purchase Price or see the Pilot models for sale near you.
2023 Mazda CX-9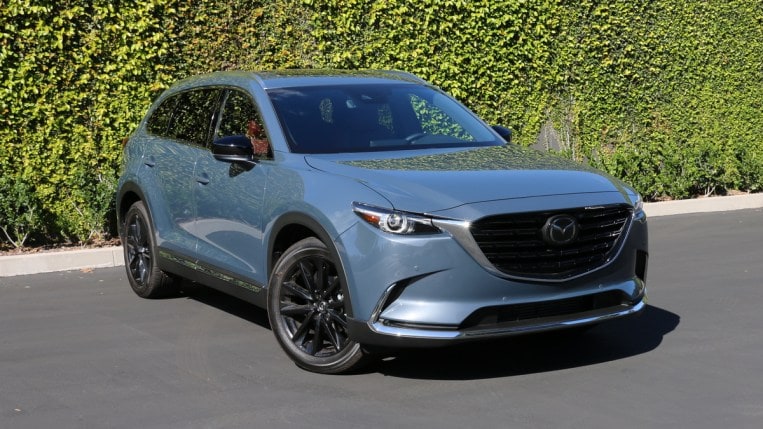 Mazda is known, above all, for building great driver's cars. It builds some of the best-handling vehicles on the market. That's not easy to do with a vehicle of this size, but the 2023 Mazda CX-9 is the rare 3-row SUV that our test drivers had fun with. It will get a more upscale roommate soon when the CX-90 joins the lineup. For now, it's Mazda's flagship vehicle. Prices start at $38,750.
Mazda CX-9 Highlights
Handling that defies its size: You wouldn't think a minivan-sized SUV could feel sporty, but Mazda pulled it off with the CX-9. Torque vectoring, which brakes wheels individually to enhance cornering, makes it seem to shrink around you on a winding road. It's magic.
Standard AWD: Honda offers all-wheel drive (AWD) on the Pilot, but it's a $2,000 option on most trims. Last year, Mazda made AWD standard on all of its SUVs. That means every CX-9, including the base model, sends power to all four tires for added grip in slippery conditions.
Sleek looks: Because we spend all day looking at cars, we like it when an automaker zigs while everyone else zags. In 2023, most car builders are making their SUVs boxier and brawnier. More and more, the svelte look and audacious curves of the CX-9 stand out. Thanks to Mazda's predilection for jewel-like colors, its curves positively shine in red and blue.
Check this week's Fair Purchase Price or see the CX-9 models for sale near you.
Similarities
Three rows of seats, identical warranties, very close in price
Conclusion
If you need a 3-row SUV, you have a lot of options in 2023. But some have very different character than others.
The 2023 Honda Pilot is newly rugged, with an off-road special model and an available clever seating arrangement that lets you reconfigure for different passengers. The Mazda CX-9 leans on sophistication instead, with sharp good looks and great handling. But it doesn't concede the capability fight, thanks to standard AWD.
Either one could work for the right buyer. Which SUV is right for you depends on your wants and needs.
Specifications
| | | |
| --- | --- | --- |
| | 2023 Honda Pilot | 2023 Mazda CX-9 |
| Starting Price | $39,150 | $38,750 |
| Popular Powertrains | | |
| Engine | 3.5-liter V6 | 2.5-liter turbo 4-cylinder |
| Horsepower | 285 hp @ 6,100 rpm | 227 hp @ 5,000 rpm |
| Torque | 262 lb-ft @ 5,000 rpm | 310 lb-ft @ 2,000 rpm |
| Transmission | 10-speed automatic | 6-speed automatic |
| Fuel Economy | TBD | 20 city/26 hwy/23 combined mpg |
| Max Towing | 5,000 pounds (with AWD) | 3,500 pounds |
| Also Available | AWD | |
| Specs | | |
| Basic Warranty | 3 years/36,000 miles | 3 years/36,000 miles |
| Powertrain Warranty | 5 years/60,000 miles | 5 years/60,000 miles |
| NHTSA Overall Safety | TBD | 5 stars |
| Max Seating Capacity | 8 | 7 |
| Wheelbase | 113.8 inches | 115.3 inches |
| Overall Length | 199.9 inches | 199.4 inches |
| Width | 78.5 inches | 77.5 inches |
| Height | 71.0 inches | 67.6 inches |
| Turning Diameter | 37.8 feet | 38.8 feet |
| Headroom, 1st Row | 40.5 inches | 40.1 inches |
| Headroom, 2nd Row | 40.2 inches | 38.5 inches |
| Headroom, 3rd Row | 39.3 inches | 35.4 inches |
| Legroom, 1st Row | 41.0 inches | 41.0 inches |
| Legroom, 2nd Row | 40.8 inches | 39.4 inches |
| Legroom, 3rd Row | 32.5 inches | 29.7 inches |
| Shoulder Room, 1st Row | 61.9 inches | 57.9 inches |
| Shoulder Room, 2nd Row | 61.7 inches | 58.1 inches |
| Shoulder Room, 3rd Row | 59.5 inches | 53.1 inches |
| Cargo Volume | 18.6/48.5/87.0 cubic feet | 14.4/38.2/71.2 cubic feet |
Source link