The newest dogfight for the attention of car shoppers involves electric SUVs that look like sports cars. They have prices in the mid-$40,000 range, maximum ranges a little over 300 miles, and styling that turns heads.
The 2023 Kia EV6 has the advantage of newness. The 2023 Ford Mustang Mach-E borrows some styling and credibility from a long-running muscle car. But, at heart, they're similar SUVs aimed at similar buyers.
Let them fight.
2023 Kia EV6
The Kia EV6 is one of the most aggressively styled electric cars on the market this year. Winner of the 2023 North American Utility Vehicle of the Year award, it's technically been on the market for two model years. But a microchip shortage and high demand for its good looks have kept it rare. It offers up to 310 miles of range, a powerful GT model that can keep up with some exotic cars in a straight line, and a starting price of $48,700.
Kia EV6 Highlights
Gorgeous contemporary cabin: Kia stole a celebrated interior designer from a luxury automaker not long ago. The hire is paying off. The EV6's cabin is stunning, with soft-touch materials and a chic design. The Mach-E's cabin is OK, but critics have said it looks like an iPad glued to a dashboard.
Ten years of financial security: Ford protects the Mach-E with a 3-year, 36,000-mile bumper-to-bumper warranty and the powertrain with a 5-year, 60,000-mile powertrain warranty. Kia answers by almost doubling both, with a 5-year, 60,000-mile basic warranty and a 10-year, 100,000-mile powertrain plan.
0.1 Seconds: The fastest Mustang Mach-E can get from zero to 60 mph in 3.5 seconds. But the fastest EV6, the GT model, can do the same run in 3.4. Will you feel the difference? No. But, in the rarified sub-4-second world where only McLarens and Lamborghinis played just a few years ago, bragging rights hang on tenths of a second. The EV6 can brag.
Check this week's Fair Purchase Price or see the Kia EV6 models for sale near you.
2023 Ford Mustang Mach-E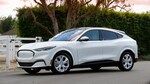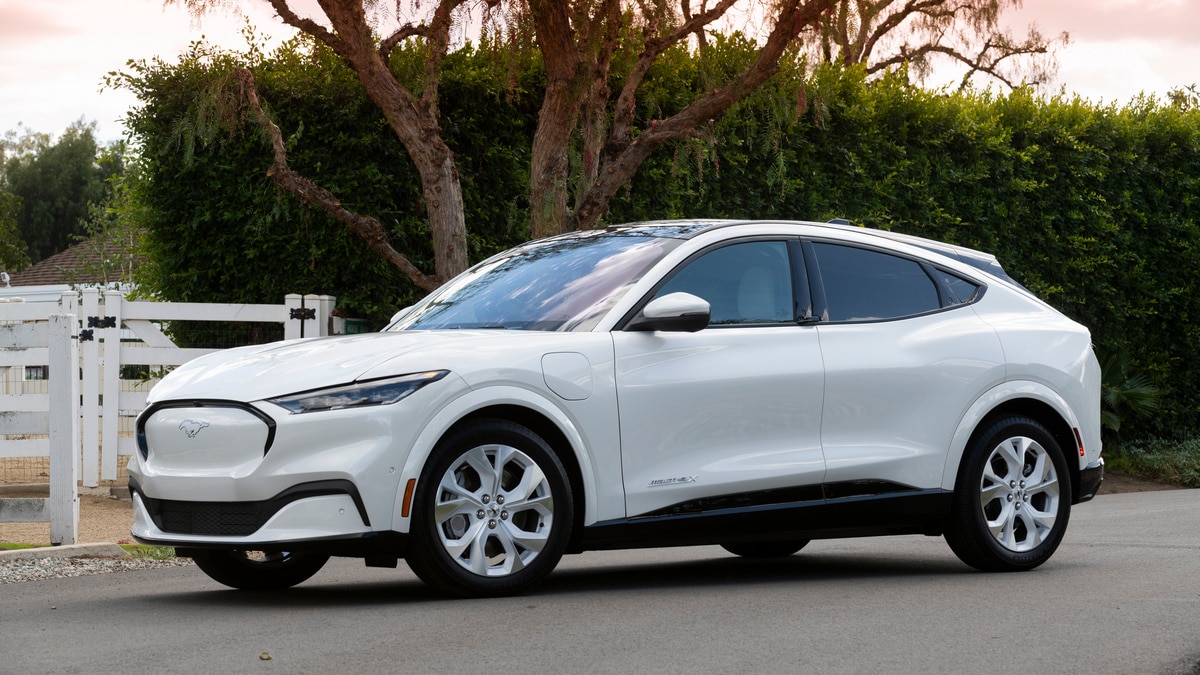 The Ford Mustang Mach-E has been so popular since its 2021 model year release that it's been back-ordered for most of its existence. It borrows its name and some of its styling from one of America's best-known cars, the Mustang muscle car, but adds electric power and SUV cargo space. Prices start at $45,995.
Ford Mustang Mach-E Highlights
Heritage: You'll meet muscle car purists miffed that the Mach-E is an SUV with the Mustang badge on the front. Ignore them. Pony car styling has worked for millions of Americans for generations, and here it is with no guilt over your emissions.
Real cargo space: Both of these vehicles are SUVs, but only the Mustang Mach-E has real SUV cargo space. Its 64.4 cubic feet will swallow more groceries than the EV6's 50.2.
Uncle Sam will help you buy it: The federal government offers a $7,500 tax rebate on electric SUVs priced under $80,000 and built in North America. Ford builds this one in Mexico, so it gets the deal. Kia builds the EV6 in South Korea, so no dice.
Check this week's Fair Purchase Price or see the Ford Mustang Mach-E models for sale near you.
Similarities
In the growing field of electric SUVs from mainstream manufacturers, these are the two that look like rock and roll. At up to 310 miles (EV6) or 314 miles (Mustang Mach-E), their ranges are close enough to make no difference.
Conclusion
Every day, there seems to be a new electric SUV with a sticker price in the $40,000 range and a range of a little over 310 miles. Many are boring. The Kia EV6 and Ford Mustang Mach-E are not. Both bring attitude to the contest. The EV6 is a touch quicker, carries a longer warranty, and is frankly gorgeous inside. The Mustang Mach-E has styling that may evoke pony car memories for some, carries more stuff, and qualifies for a tax rebate.
Only your own priorities can tell you which speaks to you.
Specs
| | | |
| --- | --- | --- |
| | 2023 Kia EV6 | 2023 Ford Mustang Mach-E |
| Starting Price | $48,700 | $45,995 |
| Popular Powertrains | | |
| Engine | Electric motor | Electric motor |
| Horsepower | 167 hp | 266 hp |
| Torque | 258 lb-ft | 317 lb-ft |
| Transmission | 1-speed direct drive | 1-speed direct drive |
| Fuel Economy | 136 city/100 hwy/117 combined MPGe | 110 city/96 hwy/103 combined MPGe |
| Maximum Range | 310 miles | 314 miles |
| Also Available | Dual-motor, AWD | Dual-motor, AWD |
| Specs | | |
| Basic Warranty | 5 years/60,000 miles | 3 years/36,000 miles |
| Powertrain Warranty | 10 years/100,000 miles | 5 years/60,000 miles |
| Battery Warranty | 10 years/100,000 miles | 8 years/100,000 miles |
| Max Seating Capacity | 5 | 5 |
| Wheelbase | 114.2 inches | 117.5 inches |
| Overall Length | 184.3 inches | 185.6 inches |
| Width | 74.0 inches | 74.1 inches |
| Height | 60.8 inches | 64.0 inches |
| Turning Diameter | 38.2 feet | 38.1 feet |
| Headroom, Front | 39.0 inches | 38.9 inches |
| Headroom, Rear | 38.0 inches | 38.3 inches |
| Legroom, Front | 42.4 inches | 41.7 inches |
| Legroom, Rear | 39.0 inches | 38.1 inches |
| Shoulder Room, Front | 57.8 inches | 57.6 inches |
| Shoulder Room, Rear | 55.6 inches | 55.9 inches |
| Cargo Volume | 24.4/50.2 cubic feet | 34.4/64.4 cubic feet |
Source link