The best-selling electric vehicle (EV) in America is a Tesla (the Model Y). The second best-selling EV in America is also a Tesla (the Model 3). But that's true largely because Tesla got a head start. Today, other automakers are routinely bringing out exciting, compelling EVs that might make better choices for many buyers.
One of the most interesting is the Kia EV6. If you've seen one in traffic, you've probably stared. It's a gorgeous vehicle with exceptional performance numbers. Let's see how it compares to the Model 3.
2023 Kia EV6
The 2023 Kia EV6 may be the best-looking EV in the world. It looks muscular and torsional, with an aggressive design language Kia calls "digital tiger." It offers up to 310 miles of driving range and several power configurations. The most extreme of them – the EV6 GT – boasts 576 horsepower and truly shocking acceleration numbers. Pricing starts at $48,700, while a GT runs $61,600.
Kia EV6 Highlights
Stunning design inside and out: Tesla's designs have evolved and changed little since the 2012 introduction of the Model S. They've begun to look dated. The EV6, on the other hand, looks gorgeous and aggressive. It commands attention like no other EV. It's beautiful inside as well, with a pair of screens mounted together to look like one immense curved screen.
10-year powertrain warranty: EVs are a new technology. It's reasonable to be nervous about long-term ownership costs. Kia provides the longest warranty in the business. A 10-year/100,000-mile powertrain warranty brings a lot of peace of mind.
Fewer questions: Tesla changes its designs on the fly all the time, so a Tesla you buy in March, and a Tesla you buy in August may have different components. The company doesn't publish some common information like horsepower figures, so you don't always know what you're getting. And its network of service centers is thin and widespread – you might be left towing your Tesla a long distance for repairs if something goes wrong. Kia, on the other hand, is an open book and has dealerships in all 50 states capable of dealing with any problems that come up with an EV6.
Check this week's Fair Purchase Price or see the Kia EV6 models for sale near you.
2023 Tesla Model 3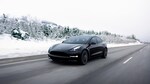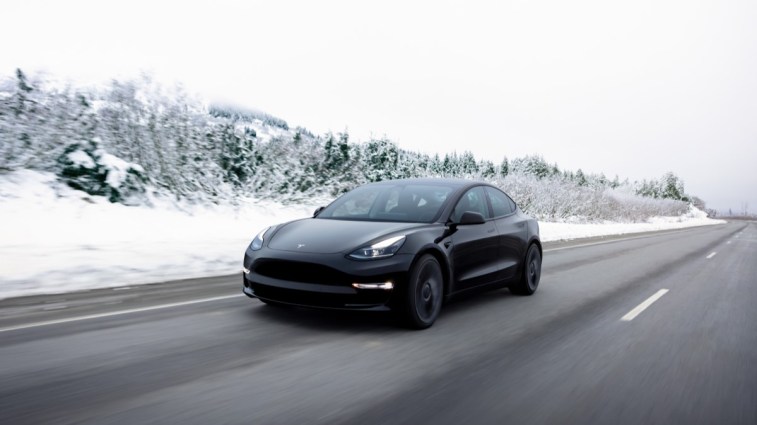 The Tesla Model 3 is the second best-selling EV in America and the least expensive way to get access to Tesla's extensive charging network. Its sedan form factor is almost rare today, as most automakers have been releasing electric SUVs. Tesla has been on a price-cutting spree early in 2023. The Model 3 now starts at $39,990.
Tesla Model 3 Highlights
The Tesla Supercharger network: Many EV owners love their cars but hate charging them in public. You'll probably do most of your charging at home. But if you will be charging in public, it's worth noting that the Tesla Supercharger network is America's most extensive charging network. Tesla opens a small percentage of those chargers to users of other brands' cars. But they're all open to Model 3 owners.
Less expensive, and sometimes much less expensive: With Tesla's recent price cuts, the least-expensive Model 3 now costs under $40,000. The base Model 3 also qualifies for a $3,750 federal tax rebate not available on the EV6. The most expensive, the Model 3 performance, starts at $52,990. It qualifies for a $7,500 discount. With the tax rebate taken into account, that means the top trim level of the Model 3 costs less than the base EV6 for many buyers.
That Tesla prestige: Tesla is an utterly unique automaker. Other automakers have consumers who buy their cars after careful cross-shopping (like you're doing now). But Kelley Blue Book data show that many Tesla buyers never even consider another car. If you've always wanted the high-tech Tesla image, the Model 3 is the cheapest way to get it.
Check this week's Fair Purchase Price or see the Tesla Model 3 models for sale near you.
Similarities
The EV6 and Model 3 are both available as comfortable commuters or high-performance cars.
Conclusion
Either the Kia EV6 or the Tesla Model 3 could be a great EV for you. If you have uncertain access to home charging or could be traveling through areas without great EV infrastructure, the Tesla Supercharger network might make the Model 3 the right call. Its current price is attractive, too. But, speaking of attractive, there's no doubt you'd like looking at your EV6. If you spring for the GT, you'll enjoy driving it more, too (especially that 3.5-second 0-60 mph time).
Only your own priorities can tell you which of those descriptions works for you.
Specs
| | | |
| --- | --- | --- |
| | 2023 Kia EV6 | 2023 Tesla Model 3 |
| Starting Price | $48,700 | $39,990 |
| Popular Powertrains | | |
| Engine | Electric motor | Dual electric motors |
| Horsepower | 225 hp | Unknown |
| Torque | 258 lb-ft | Unknown |
| Transmission | 1-speed direct drive | 1-speed direct drive |
| Fuel Economy | 134 city/101 hwy/117 combined MPGe | 138 city/126 hwy/132 combined MPGe |
| Maximum Range | 310 miles | 272 miles |
| Also Available | Dual-motor, AWD | Performance model |
| Specs | | |
| Basic Warranty | 5 years/60,000 miles | 4 years/50,000 miles |
| Powertrain Warranty | 10 years/100,000 miles | 4 years/50,000 miles |
| Battery Warranty | 10 years/100,000 miles | 8 years/100,000 miles |
| Max Seating Capacity | 5 | 5 |
| Wheelbase | 114.2 inches | 113.2 inches |
| Overall Length | 184.3 inches | 184.8 inches |
| Width | 74.0 inches | 82.2 inches |
| Height | 60.8 inches | 56.8 inches |
| Turning Diameter | 38.2 feet | 38 feet |
| Headroom, Front | 39.0 inches | 40.3 inches |
| Headroom, Rear | 38.0 inches | 37.7 inches |
| Legroom, Front | 42.4 inches | 42.7 inches |
| Legroom, Rear | 39.0 inches | 35.2 inches |
| Shoulder Room, Front | 57.8 inches | 56.3 inches |
| Shoulder Room, Rear | 55.6 inches | 54 inches |
| Cargo Volume | 24.4/50.2 cubic feet | 29.8/22.9 cubic feet |