Americans suddenly have an abundance of all-electric 2-row SUVs with prices in the $40,000 range to choose from. Each offers a high-tech vibe and the brisk acceleration native to electric cars.
But they're not all alike. The 2023 Kia EV6 may be the best-looking of the type and has some high-performance options no rival can quite match. On the other hand, the 2023 Volkswagen ID.4 has an intuitive user interface that feels great to use, and more family-friendly space.
Let's take a closer look at these electric vehicles (EVs) and find one that works for you.
2023 Kia EV6
We'll start with the obvious — the 2023 Kia EV6 is one of the best-looking vehicles without a luxury badge on it. Inside and out, it has an athletic design aesthetic we love. Range up to 310 miles doesn't hurt, either. If you can swing the price, a high-performance GT edition backs up the sporty look with supercar-like acceleration. Pricing starts at $48,700.
Kia EV6 Highlights
Greater range and efficiency: For many buyers, range is comfort. The EV6 boasts up to 310 miles of driving range between charges. The ID.4 gets 275. You probably don't drive far enough on an average day to notice it, but if you'll take road trips in this car, 35 extra miles between charges adds up.
Truly beautiful design: Kia has quickly become known for great-looking cars. The EV6 might be its prettiest product. On the outside, its broad haunches and sleek nose create an athletic look no other electric SUV can match. Inside, the look is high-tech and stylish, with the driver's instrument panel and the central touchscreen mounted to look like a wide, curved screen. Higher trim levels get aluminum pedals that add a sporty flair.
Performance options: The base EV6 sends 225 horsepower to its rear wheels. But Kia offers options for both 320 and an eye-popping 576 horses. All-wheel drive (AWD) is available starting at $52,600 with the Wind e-AWD trim.
Check this week's Fair Purchase Price or see the Kia EV6 models for sale near you.
2023 Volkswagen ID.4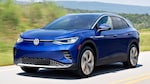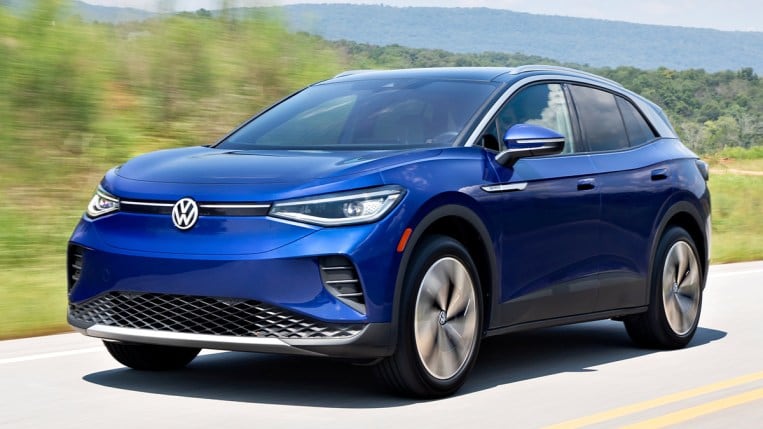 The 2023 Volkswagen ID.4 is a great family SUV that happens to be electric. It boasts excellent safety scores and a lower starting price — $38,995 — than many rivals (including the EV6). Range tops out at 275 miles.
Volkswagen ID.4 Highlights
Lower price, and the federal government may lower it further: Kia has a hit on its hands with the EV6 and knows it. They've raised prices for 2023, while VW has held the ID.4's price much lower. Also, Volkswagen builds many ID.4 models in Tennessee, which means that right now, they'll qualify for a $7,500 federal tax rebate that the EV6 — built overseas — won't.
One of our favorite interfaces: The ID.4 has a truly clever piece of design; a thin LED strip mounted at the bottom of the windshield that communicates simple messages like turn-by-turn direction and the battery's charge state in the driver's peripheral vision. It becomes intuitive very quickly and gives the car personality.
More cargo space: If you're buying an electric SUV for traditional SUV reasons, like cargo space, the ID.4 may be the right choice. Its styling is a little more conventional, in part to give it 14 more cubic feet of cargo space.
Check this week's Fair Purchase Price or see the Volkswagen ID.4 models for sale near you.
Similarities
These are two of the best of a new generation of electric midsize SUVs. Either will offer an easy transition to electric driving. Both offer standard Apple CarPlay and Android Auto and are available in rear- or all-wheel-drive.
Conclusion
If you're looking to transition to electric driving, either the Kia EV6 or ID.4 could work for you. The EV6 has more curb appeal, and you might also like the design better from the inside. But it'll cost you almost $10,000 more, even before tax rebates. The ID.4 can't keep up with the high-performance models of the EV6, but it makes a great family car and offers a clever interface we fell in love with. It's also far more affordable.
They're two different approaches to going electric, and each will be right for some drivers.
Specs
| | | |
| --- | --- | --- |
| | 2023 Kia EV6 | 2023 Volkswagen ID.4 |
| Starting Price | $48,700 | $38,995 |
| Popular Powertrains | | |
| Engine | Electric motor | Electric motor |
| Horsepower | 167 hp | 201 hp |
| Torque | 258 lb-ft | 229 lb-ft |
| Transmission | 1-speed direct drive | 1-speed direct drive |
| Fuel Economy | 136 city/100 hwy/117 combined MPGe | 115 city/99 hwy/107 combined MPGe |
| Maximum Range | 310 miles | 275 miles |
| Also Available | Dual-motor, AWD | Dual-motor, AWD |
| Specs | | |
| Basic Warranty | 5 years/60,000 miles | 4 years/50,000 miles |
| Powertrain Warranty | 10 years/100,000 miles | 4 years/50,000 miles |
| Battery Warranty | 10 years/100,000 miles | 8 years/100,000 miles |
| Max Seating Capacity | 5 | 5 |
| Wheelbase | 114.2 inches | 108.9 inches |
| Overall Length | 184.3 inches | 180.5 inches |
| Width | 74.0 inches | 72.9 inches |
| Height | 60.8 inches | 64.4 inches |
| Turning Diameter | 38.2 feet | 33.6 feet |
| Headroom, Front | 39.0 inches | 41.1 inches |
| Headroom, Rear | 38.0 inches | 38.4 inches |
| Legroom, Front | 42.4 inches | 41.1 inches |
| Legroom, Rear | 39.0 inches | 37.6 inches |
| Shoulder Room, Front | 57.8 inches | 57.5 inches |
| Shoulder Room, Rear | 55.6 inches | 55.9 inches |
| Cargo Volume | 24.4/50.2 cubic feet | 30.3/64.2 cubic feet |