SUV shoppers might be looking for many different things. Some SUVs make great family road trip cars, and some SUVs can tow a large boat. There are SUVs that can go anywhere off-road and SUVs that perform like sports cars on the pavement.
The 2023 Kia Sorento and Jeep Cherokee have things in common on paper but meet very different needs. Let's explore why a buyer might be attracted to one or the other.
2023 Kia Sorento
The Kia Sorento occupies a unique space in the market that makes it a great buy for some drivers. It barely takes up more space than a compact SUV but offers three rows of seating and serious cargo space. Kia sells a flexible lineup of Sorento models, including hybrid and plug-in hybrid versions. Pricing starts at $30,090.
Kia Sorento Highlights
Three-row seating: The Sorento fits in the same space as a 2-row midsize SUV but offers a third row of seating. Our test drivers found it "pretty tight," but if you only need a third row occasionally, it will do the trick. The Cherokee can't do it.
Lower price: Talk about more for your money — the Sorento's starting price is more than $7,000 below that of the smaller Cherokee and gives you more seats and more cargo space.
Excellent warranty: Kia's 5-year/60,000-mile basic warranty and 10-year/100,000-mile powertrain warranty remains among the most impressive features available on any car this year. By comparison, the Jeep Cherokee has a 3-year/36,000-mile basic warranty and a 5-year/60,000-mile powertrain warranty.
Check this week's Fair Purchase Price or see the Sorento models for sale near you.
2023 Jeep Cherokee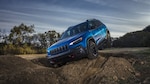 The 2023 Jeep Cherokee is Jeep's compact SUV, an aging design but a proven one known for its off-road performance and strong towing capability. It offers standard all-wheel drive (AWD) and a rugged Trailhawk model with more heavy-duty off-road gear than most rivals. Pricing starts at $37,695.
Jeep Cherokee Highlights
Standard AWD: The Sorento has four trims with AWD and four that require buyers to pay an $1,800 option fee to get it. Every Cherokee comes with it at no added cost.
Stronger towing capacity (if you pay for it): Most Sorento models have a towing capacity of 2,000 pounds. The base model Cherokee has the same. Stepping up to a turbocharged engine bumps the Kia up to 3,500. The Cherokee Trailhawk has a 4,000-pound capacity.
Trailhawk model for serious off-roaders: The Sorento has three X-Line trims capable of light off-roading thanks to added ground clearance. But the Cherokee Trailhawk is an altogether different beast. Features like a 2-speed transfer case, skid plates, and a rock crawling mode help it conquer terrain most competitors can't approach. But it's costly, with a $41,295 manufacturer's suggested retail price.
Check this week's Fair Purchase Price or see the Cherokee models for sale near you.
Similarities
Both use standard 4-cylinder engines with an optional step up to a turbocharged model. They offer similar fuel economy.
Conclusion
The Kia Sorento is an excellent midsize SUV with three rows of seating and a wide selection of trims. It has a lower starting price, a longer warranty, and an up-to-date cabin with a lovely design. The Jeep Cherokee is more expensive and offers just two rows of seating, but comes with standard AWD and has a truly remarkable off-road model.
Which of these SUVs is right for you depends on your needs.
Specifications
| | | |
| --- | --- | --- |
| |  2023 Kia Sorento | 2023 Jeep Cherokee |
| Price | $30,090 | $37,695 |
| Popular Powertrains | | |
| Engine | 2.5-liter 4-cylinder | 2.4-liter 4-cylinder |
| Horsepower | 191 hp @ 6,100 rpm | 180 hp @ 6,400 rpm |
| Torque | 181 lb-ft @ 4,000 rpm | 171 lb-ft @ 4,600 rpm |
| Transmission | 8-spd automatic | 9-spd automatic |
| Fuel Economy | 26 mpg (24 city/29 hwy) | 24 mpg (21 city/29 hwy) |
| Also Available | 2.5-liter turbo 4-cylinder; Hybrid; PHEV; AWD | 2.0-liter turbo 4-cylinder |
| Specs | | |
| Basic warranty | 5 years/60,000 miles | 3 years/36,000 miles |
| Powertrain Warranty | 10 years/100,000 miles | 5 years/60,000 miles |
| NHTSA Overall Safety Rating | 4 stars | N/A |
| Max Seating Capacity | 7 | 5 |
| Wheelbase | 110.8 inches | 106.6 inches |
| Overall Length | 189.0 inches | 183.1 inches |
| Width | 74.8 inches | 73.2 inches |
| Height | 66.7 inches | 66.2 inches |
| Turning Diameter | 18.96 feet | 37.6 feet |
| Headroom, Front | 40.3 inches | 39.4 inches |
| Headroom, Rear | 39.1 inches | 38.5 inches |
| Headroom, 3rd Row | 36.8 inches | N/A |
| Legroom, Front | 41.4 inches | 41.1 inches |
| Legroom, Rear | 41.7 inches | 40.3 inches |
| Legroom 3rd Row | 29.6 inches | N/A |
| Shoulder Room, Front | 59.1 inches | 57.6 inches |
| Shoulder Room, Rear | 58.1 inches | 55.1 inches |
| Shoulder Room, 3rd Row | 53.0 inches | N/A |
| EPA Passenger Volume | 105.3 cubic feet | 128.0 cubic feet |
| EPA Cargo Volume | 75.5 cubic feet | 54.7 cubic feet |
Source link