Subcompact vehicles are the most cost-effective way for many Americans to get around. A new subcompact car or SUV gives you reliable transportation under warranty that's affordable to operate and easy to live with. However, they have one fundamental problem: Most of them are boring.
Most of them, but a few have some personality.
The 2023 Kia Soul and Chevrolet Trailblazer are perhaps the only two subcompact vehicles for sale in 2023 that give their owners enough character to fall in love with them. Let's look at what each has to offer.
2023 Kia Soul
The 2023 Kia Soul — is it an SUV or a hatchback? It's hard to decide, which is key to understanding the Soul's charm. Kia's little 5-door doesn't follow anyone else's guidelines. It's defiantly boxy and unbelievably practical. Starting at $19,890, it's one of the most affordable new cars in America and delivers quirk alongside immense practicality.
Kia Soul Highlights
Respects your wallet: The 2023 Soul starts under $20,000 — a rarity in today's market. Better yet, a Soul GT-Line with Technology Package delivers SynTex vegan leather trim, heated front seats, a Harmon Kardon premium audio system, and similar luxuries for just a little over $27,000.
Long-term financial stability: Kia's best feature remains its industry-leading 5-year/60,000-mile basic warranty and 10-year/100,000-mile powertrain warranty. Buy one today, and major repairs could be covered in 2033.
Useful cargo space: That boxy shape? It's not just there for funky style. With the rear seats down, the Soul offers a full 62.1 cubic feet of cargo space. That's serious hauling capacity for such a small footprint.
Check this week's Fair Purchase Price or see the Kia Soul models for sale near you.
2023 Chevrolet Trailblazer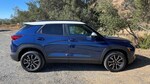 The 2023 Chevrolet Trailblazer looks great — a real rarity in this class — and uses a unique turbocharged 3-cylinder engine. It's available with all-wheel drive (AWD) and offers more headroom than anything else in its class. Prices start at $22,100.
Chevy Trailblazer Highlights
Available AWD: The Soul has some characteristics of an SUV, but it's only pretending to be one. The big difference? All-wheel drive. If you live where foul winter weather is a concern or plan to take your new car off-road, the Trailblazer's available AWD gives it capabilities the Soul will never have.
Sporty-looking RS trim: The Trailblazer RS might be worth a look if you're shopping these two for style. It comes with visually interesting 18-inch high gloss wheels, sharp-looking LED tail lamps, and the option of a blackout package that adds trendy black emblems and nameplates.
Five-star safety rating: The National Highway Traffic Safety Administration gave the 2023 Trailblazer its highest safety rating — five stars. The Soul scored four.
Check this week's Fair Purchase Price or see the Chevrolet Trailblazer models for sale near you.
Similarities
These are probably the only two cars in their class that look good. They get the same 30 mpg in combined driving and offer similar living space and prices.
Conclusion
In a class full of nondescript cars, the 2023 Kia Soul and Chevy Trailblazer are interesting. That alone recommends them. If you're seeking a great value, the Soul's lower price and long list of features might make up your mind for you. But if AWD traction is required, only Chevrolet dealers can help you between these two.
Specifications
| | | |
| --- | --- | --- |
| | 2023 Kia Soul | 2023 Chevrolet Trailblazer |
| Starting Price | $19,890 | $22,100 |
| Popular Powertrains | | |
| Engine | 2.0-liter 4-cylinder | 1.2-liter turbocharged 3-cylinder |
| Horsepower | 147 hp @ 6,200 rpm | 137 hp @ 5,000 rpm |
| Torque | 132 lb-ft @ 4,500 rpm | 162 lb-ft @ 2,500 rpm |
| Transmission | CVT automatic | CVT automatic |
| Fuel Economy | 28 city/33 highway/30 combined mpg | 29 city/31 highway/30 combined mpg |
| Also Available | N/A | 1.3-liter turbo 3-cylinder; AWD |
| Specs | | |
| Basic Warranty | 5 years/60,000 miles | 3 years/36,000 miles |
| Powertrain Warranty | 10 years/100,000 miles | 5 years/60,000 miles |
| NHTSA Overall Safety | 4 stars | 5 stars |
| Max Seating Capacity | 5 | 5 |
| Wheelbase | 102.4 inches | 104 inches |
| Overall Length | 165.2 inches | 173.5 inches |
| Width | 70.9 inches | 71.2 inches |
| Height | 63.0 inches | 65.2 inches |
| Turning Diameter | 34.8 feet | 36.8 feet |
| Headroom, Front | 39.9 inches | 40.0 inches |
| Headroom, Rear | 39.5 inches | 38.4 inches |
| Legroom, Front | 41.1 inches | 40.9 inches |
| Legroom, Rear | 38.8 inches | 39.4 inches |
| Shoulder Room, Front | 55.5 inches | 55.4 inches |
| Shoulder Room, Rear | 54.7 inches | 53.8 inches |
| Cargo Volume | 24.2/62.1 cubic feet | 25.3/54.4 cubic feet |
Source link