The traditional contenders in the compact SUV segment are boring. Yes, they have their charms. But you don't want the same crossover two friends and three coworkers have. You have too much personality for that.
Two of the more interesting new options in 2023 are the Kia Sportage and the Mazda CX-50. The Sportage is a brand new design, with a more up-to-the-minute look and an exceptionally long feature list. The CX-50 brings Mazda's traditional sportiness to the table but adds a new off-road character the brand hasn't touted before.
Let's take a closer look at two choices that might make you seem a little more interesting.
2023 Kia Sportage
The Kia Sportage used to be known for a long feature list, a long warranty, and somewhat uninspiring looks. Kia has kept the first two but completely changed the last for 2023. A complete redesign for 2023 brought a contemporary look to the Sportage's body, and perhaps the best-looking cabin in the class inside it. Pricing starts at $26,290.
Kia Sportage Highlights
Real design panache: Outside, the 2023 Sportage features thin LED lighting, a blend of curves and angles, and interesting color choices. Inside, it's even better. Not long before this redesign, Kia hired a new design chief, formerly with BMW. It shows. The Sportage's cabin looks like something from a European luxury marque. The CX-50 isn't bad looking, but it doesn't have the Kia's assertiveness.
Hybrid options: The Sportage is available with a choice of traditional gasoline engines, hybrid power, or as a plug-in hybrid that can go up to 34 miles on electricity alone. Mazda is quite simply behind on electrification. The CX-50 has no hybrid options.
Excellent warranty: Kia may be improving its designs, but it hasn't given up the feature that built its name. The Sportage is covered by a 5-year/60,000-mile basic warranty and a 10-year/100,000-mile powertrain warranty. Mazda doesn't come close.
Check this week's Fair Purchase Price or see the Kia Sportage models for sale near you.
2023 Mazda CX-50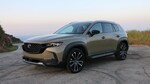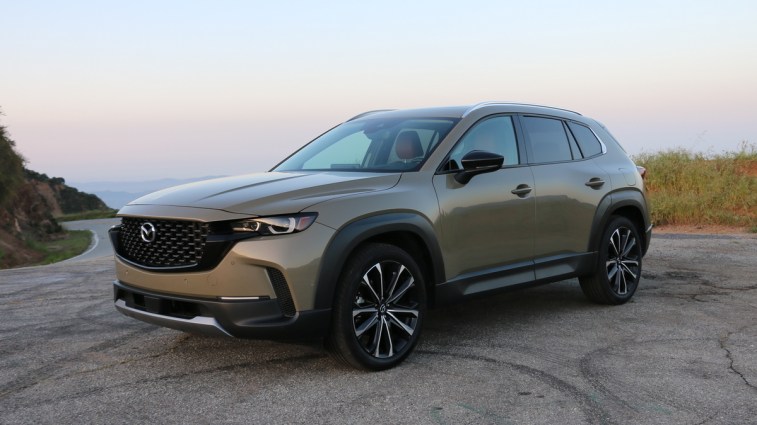 Mazda has long been known for great on-road performance. The CX-50 is something new for the brand – an SUV meant for the trail as much as the highway. Standard all-wheel drive (AWD), an available turbo engine, and an upscale cabin make the CX-50 a compelling new alternative. Pricing starts at $27,550.
Mazda CX-50 Highlights
Standard AWD: Kia will sell you an AWD Sportage, but it adds $1,800 to the price tag of most trim levels. Mazda doesn't build a CX-50 without it. If you're going to take your new SUV on the trail, Mazda's i-Activ AWD system is a plus.
Optional turbocharged engine: CX-50 buyers have the option of a 2.5-liter turbocharged engine making up to 256 horsepower (227 without premium fuel). It's pricier but gives buyers more interested in performance an option most rivals don't give them. The Sportage plug-in hybrid variant has 261 horsepower but weighs more, making the CX-50 turbo a touch quicker.
Fun to drive: The heart of almost every Mazda is the brand's famously responsive steering enhanced by the G-Vectoring torque system. The Sportage can be fun to drive but can't quite match the CX-50 on a winding road. We should note that Sportage models equipped with AWD have a torque vectoring system of their own.
Check this week's Fair Purchase Price or see the Mazda CX-50 models for sale near you.
Similarities
These are two of the newest compact SUVs on the block, and each comes with a 2.5-liter 4-cylinder engine making 187 horsepower.
Conclusion
Compact SUV shoppers have a lot of options. But not many of them are interesting. Both the 2023 Kia Sportage and the 2023 Mazda CX-50 offer unique character. The CX-50, as essentially Mazda's Subaru, has hiking-boot looks and a bit of the off-road capability to back it up. The Kia Sportage is more stylish and more flexible, available with conventional, hybrid, or plug-in hybrid powertrains. X-Line and X-Pro light off-roading trims can help you get your Sportage on the trail, too.
Choosing between them is largely a matter of style, though we'd be remiss not to note the warranty difference, too.
Specs
| | | |
| --- | --- | --- |
| | 2023 Kia Sportage | 2023 Mazda CX-50 |
| Starting Price | $26,290 | $27,550 |
| Popular Powertrains | | |
| Engine | 2.5-liter 4-cylinder | 2.5-liter 4-cylinder |
| Horsepower | 187 hp @ 6,100 rpm | 187 hp @ 6,000 rpm |
| Torque | 178 lb-ft @ 4,000 rpm | 186 lb-ft @ 4,000 rpm |
| Transmission | 8-speed automatic | 6-speed automatic |
| Fuel Economy | 25 city/32 highway/28 combined mpg (FWD) | 24 city/30 highway/27 combined mpg |
| Also Available | AWD, Hybrid, Plug-in hybrid | 2.5-liter turbocharged 4-cylinder |
| Specs | | |
| Basic Warranty | 5 years/60,000 miles | 3 years/36,000 miles |
| Powertrain Warranty | 10 years/100,000 miles | 5 years/60,000 miles |
| Max Seating Capacity | 5 | 5 |
| Wheelbase | 108.5 inches | 110.8 inches |
| Overall Length | 183.5 inches | 185.8 inches |
| Width | 73.4 inches | 80.8 inches |
| Height | 66.1 inches | 63.5 inches |
| Turning Diameter | 38.6 feet | 36.0 feet |
| Headroom, Front | 39.6 inches | 39.1 inches |
| Headroom, Rear | 39.4 inches | 38.6 inches |
| Legroom, Front | 41.4 inches | 41.7 inches |
| Legroom, Rear | 41.3 inches | 39.8 inches |
| Shoulder Room, Front | 57.5 inches | 55.9 inches |
| Shoulder Room, Rear | 55.6 inches | 53.6 inches |
| Cargo Volume | 39.6/74.1 cubic feet | 31.4/56.3 cubic feet |