Compact SUVs are ideal vehicles for many drivers. They offer as much passenger and cargo space as many midsize cars, plus the ability to see over traffic and, often, feel more secure in winter weather. The Kia Sportage, all-new for 2023, does it with a sharp style and a long list of features for a fair price. The Subaru Forester, a trusted veteran at this point, comes to the job with a capable off-road reputation and that unique Subaru mystique.
Let's see how the two compare.
2023 Kia Sportage
The Kia Sportage has long been known as a lot of car for the money. For 2023, Kia designers developed an entirely new Sportage with a more handsome style than ever before. A flexible lineup includes hybrid and plug-in hybrid (PHEV) options and a rugged off-road-oriented trim. Prices start at $26,290.
Kia Sportage Highlights
Up-to-date cabin tech: The smallest infotainment screen offered on the Sportage is an 8-inch model, found only on the LX. That's the same size as the largest available on the Forester. Most Sportage models get a 12.3-inch screen. Speakers? The least-expensive Sportage has six. Most trims get eight. The Forester starts with four. The Sportage's recent update means its cabin tech simply outclasses that of the Forester.
Flexible lineup: If your car will primarily be a warm-weather commuter, Kia has an inexpensive front-wheel-drive Sportage for you. If you're going to hit the trail, the Sportage offers all-wheel drive (AWD) as an option, or it's standard on the X-Pro models, which feature multi-terrain drive modes. There are even hybrid and plug-in hybrid versions, though they cost significantly more.
Excellent warranty: Kia has the longest warranties available in 2023 — a 5-year/60,000-mile basic warranty and a 10-year/100,000-mile powertrain warranty. That can contribute to financial security, especially if you tend to keep your cars for many years.
Check this week's Fair Purchase Price or see the Kia Sportage models for sale near you.
2023 Subaru Forester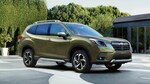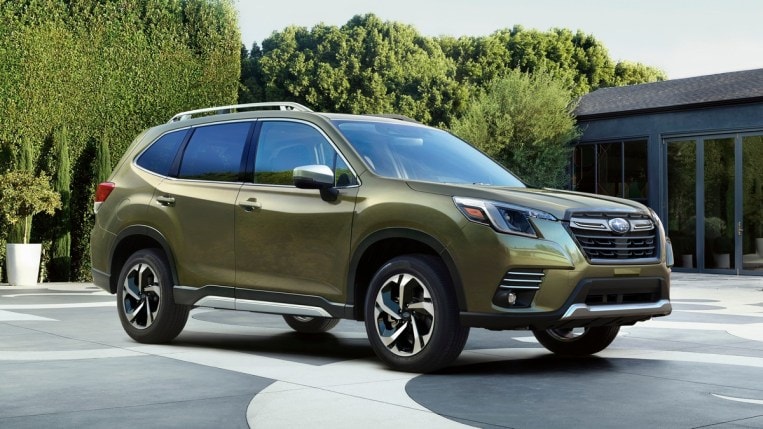 Subaru has an incredibly loyal following because almost all its cars follow a simple, reliable formula. They offer an excellent standard symmetrical AWD system and low-mounted boxer engines that give them an unusually stable feel on the road. A strong reputation for safety and reliability doesn't hurt. The Forester is an aging platform, last redesigned in 2018. But millions of fans swear by its rugged character. Prices start at $26,395.
Subaru Forester Highlights
Standard AWD: All-wheel drive adds $1,800 to the price of the Sportage LX, EX, SX, and SX Prestige. It's just in the DNA of every Forester for no added fee. Subaru's symmetrical AWD system has been earning rave reviews for decades.
Wilderness trim level has true off-road capability: An AWD Sportage will handle light off-roading well, but the Forester Wilderness has real off-road gear that specialty shops often add. Underbody skid plates, matte hood decals to reduce glare, and an extra half inch of ground clearance means it can handle a more rugged kind of off-roading.
More ground clearance: When heading off the beaten path, more ground clearance means less chance of getting snagged on ruts and rocks. The Forester bests the Sportage with 8.7 inches, or an even more impressive 9.2 on the Wilderness model.
Check this week's Fair Purchase Price or see the Subaru Forester models for sale near you.
Similarities
These two are so close in price that, if you're shopping for base models, price isn't a consideration between the two. They have almost identical power figures and fuel economy, too.
Conclusion
Kia's recent redesign means that the 2023 Kia Sportage feels more up-to-date and stylish than the Subaru Forester. It's also more flexible, with a huge variety of trim levels and even the option of hybrid and PHEV powertrains. But the Forester is a journeyman off-roader, and that's exactly what some buyers want.
Only your own preferences can tell you which description appeals to you.
Specifications:
| | | |
| --- | --- | --- |
| | 2023 Kia Sportage | 2023 Subaru Forester |
| Starting Price | $26,290 | $26,395 |
| Popular Powertrains | | |
| Engine | 2.5-liter 4-cylinder | 2.5-liter 4-cylinder |
| Horsepower | 187 hp @ 6,100 rpm | 182 hp @ 5,800 rpm |
| Torque | 178 lb-ft @ 4,000 rpm | 176 lb-ft @ 4,400 rpm |
| Transmission | 8-speed automatic | CVT |
| Fuel Economy | 25 city/32 highway/28 combined mpg (FWD) | 26 city/33 highway/29 combined mpg |
| Also Available | AWD, Hybrid, Plug-in hybrid | |
| Specs | | |
| Basic Warranty | 5 years/60,000 miles | 3 years/36,000 miles |
| Powertrain Warranty | 10 years/100,000 miles | 5 years/60,000 miles |
| NHTSA Overall Safety | TBD | 5 stars |
| Max Seating Capacity | 5 | 5 |
| Wheelbase | 108.5 inches | 105.1 inches |
| Overall Length | 183.5 inches | 182.7 inches |
| Width | 73.4 inches | 71.5 inches |
| Height | 65.4 inches | 67.5 inches |
| Turning Diameter | 38.6 feet | 35.4 feet |
| Headroom, Front | 39.6 inches | 41.2 inches |
| Headroom, Rear | 39.4 inches | 39.6 inches |
| Legroom, Front | 41.4 inches | 43.3 inches |
| Legroom, Rear | 41.3 inches | 39.4 inches |
| Shoulder Room, Front | 57.5 inches | 58.1 inches |
| Shoulder Room, Rear | 55.6 inches | 57.2 inches |
| Cargo Volume | 39.6/74.1 cubic feet | 28.9/74.2 cubic feet |
Source link