Three-row SUVs are the ultimate family vehicles. They offer tremendous space for passengers and cargo, all-weather capability, and, often, the latest in in-car technology.
We can't call the 2023 Kia Telluride the new kid on the block anymore. But we can point out that the Telluride won our Best Buy Award in the 3-row SUV category in 2020, 2021, and 2022 (2023 awards testing is in progress as we write this). It has been refreshed for 2023, with styling tweaks inside and out. The 2023 Chevy Traverse, meanwhile, is a proven veteran with a recent refresh to keep it up-to-date.
Let's see how they compare.
2023 Kia Telluride
The Kia Telluride is one of the hottest-selling vehicles in America. Dealers routinely have less than two weeks' worth of Tellurides in stock. The biggest Kia is roomy, with a long warranty and a long list of standard equipment. New for 2023, Kia has added two light off-roader models — the X-line and X-Pro — to the lineup. The Telluride starts at $35,690, plus a $1,335 destination fee.
Kia Telluride Highlights
Contemporary cabin with the latest technology: The Telluride's cabin outclasses most of its competition. It looks high-tech, with the driver's instrument panel and central touchscreen housed together, so they look like one wide, curved screen. It looks stylish, with great color combinations and little of the hard plastic that wears poorly in today's cars. And its entertainment system receives over-the-air updates to stay current.
New off-road models: Kia introduces a pair of new Telluride models for 2023. The X-Line gets more ground clearance, a reworked off-road traction control, and trailer sway control. The X-Pro adds those same boosts plus 500 pounds of additional towing capacity for a more capable Telluride.
The longest warranty in the business: When it comes to the financial aspects of car ownership, it's hard to top Kia's 10-year, 100,00-mile powertrain warranty. The Telluride is well-built with a strong reliability reputation but protects you for a decade if something goes wrong.
Check this week's Fair Purchase Price or see the Telluride models for sale near you.
2023 Chevrolet Traverse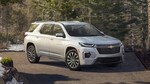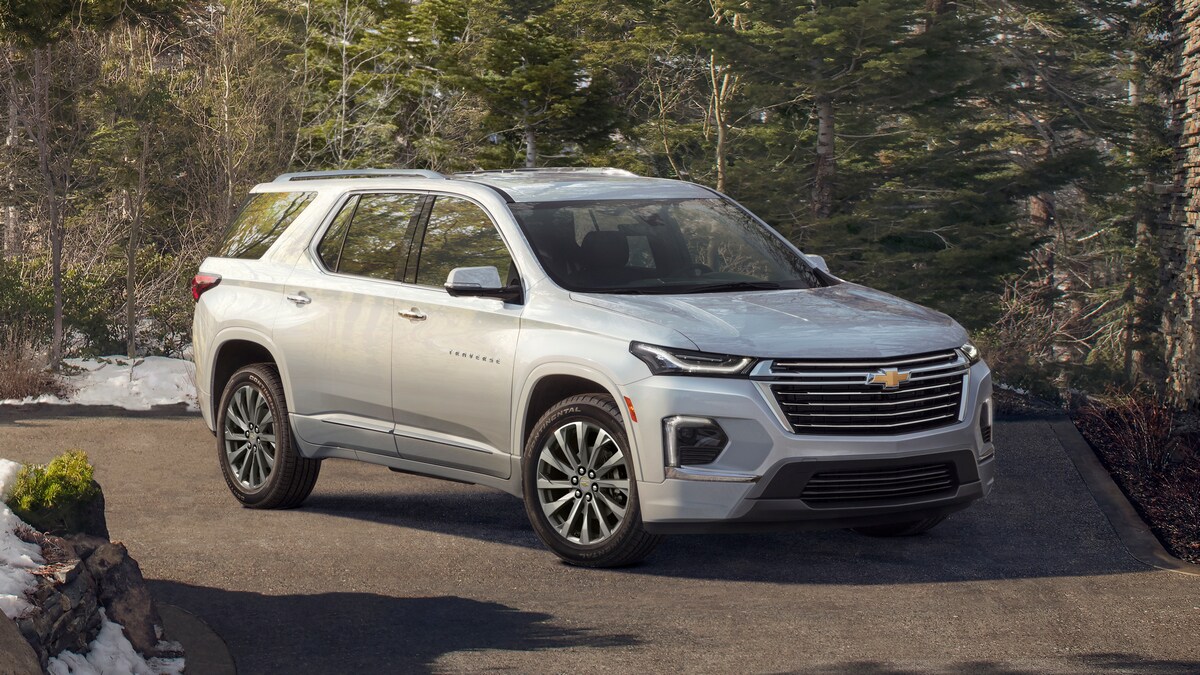 The Chevrolet Traverse is one of the roomiest 3-row SUVs on the market. It offers more room in almost every dimension than the class average. It also features a powerful V6 engine. The top-of-the-line High Country trim pushes it to near-luxury levels of plush. The Traverse starts at $34,520, plus a $1,395 destination fee.
Chevy Traverse Highlights
More power: The Traverse's standard V6 puts out 310 horsepower – one of the higher figures in the 3-row midsize SUV class and almost 20 more than the Telluride.
Standard active noise cancelation: Active noise cancelation technology is something we expect to find only in the luxury classes, but Chevrolet has built it into every 2023 Traverse. Our test driver found it helped keep the cabin at a quiet hush in highway driving.
Third-row space: The Traverse's big body comes into play when you need to use the third row. It offers more shoulder and leg room than the Telluride. Some drivers buy 3-row SUVs because they'll need the third row occasionally. Some need it all the time. If you're going to use it more often than not, your passengers would appreciate the Traverse's living space.
Check this week's Fair Purchase Price or see the Chevrolet Traverse models for sale near you.
Similarities
The 2023 Kia Telluride and Chevy Traverse have a lot in common on paper. They're both 8-seat, 3-row midsize SUVs with standard V6 engines and starting prices in the mid $30,000 range. Both can tow 5,000 pounds in most configurations (though the Telluride can tow up to 5,500 in X-Pro trim).
Conclusion
The 2023 Kia Telluride may be the most aesthetically pleasing 3-row midsize SUV, inside and out. It boasts a lower starting price than many rivals and a longer warranty. No wonder it's been in high demand and sometimes hard to find. The 2023 Chevrolet Traverse offers more space for third-row passengers, active noise cancelation for a quiet ride, and more power – though that doesn't translate into a higher towing capacity.
Your shopping priorities will tell you which one is right for you.
Specs
| | | |
| --- | --- | --- |
| | 2023 Kia Telluride | 2023 Chevrolet Traverse |
| Starting Price | $35,690 | $34,520 |
| Popular Powertrains | | |
| Engine | 3.8-liter V6 | 3.6-liter V6 |
| Horsepower | 291 hp @ 6,000 rpm | 310 hp @ 6,800 rpm |
| Torque | 262 lb-ft @ 5,200 | 266 lb-ft @ 2,800 rpm |
| Transmission | 8-spd automatic | 9-spd automatic |
| Fuel Economy | 23 mpg (20 city/26 hwy) | 21 mpg (18 city/27 hwy) |
| Also Available | AWD | AWD |
| Specs | | |
| Basic warranty | 5 years/60,000 miles | 3 years/36,000 miles |
| Powertrain Warranty | 10 years/100,000 miles | 5 years/60,000 miles |
| NHTSA Overall Safety Rating | 5 stars | n/a |
| Max Seating Capacity | 8 | 8 |
| Wheelbase | 114.2 inches | 120.9 inches |
| Overall Length | 196.9 inches | 205.9 inches |
| Width | 78.3 inches | 78.6 inches |
| Height | 68.9 inches | 70.7 inches |
| Turning Diameter | 38.8 feet | 39.0 feet |
| Headroom, Front | 40.9 inches | 42.8 inches |
| Headroom, Rear | 40.2 inches | 40.0 inches |
| Headroom, 3rd Row | 38.1 inches | 38.2 inches |
| Legroom, Front | 41.4 inches | 41.0 inches |
| Legroom, Rear | 42.4 inches | 38.4 inches |
| Legroom 3rd Row | 31.4 inches | 33.5 inches |
| Shoulder Room, Front | 61.6 inches | 61.9 inches |
| Shoulder Room, Rear | 61.2 inches | 62.2 inches |
| Shoulder Room, 3rd Row | 55.3 inches | 57.5 inches |
| EPA Passenger Volume | 178.1 cubic feet | 157.1 cubic feet |
| EPA Cargo Volume | 87.0 cubic feet | 98.2 cubic feet |
Source link