Maybe the Kia Telluride is the hottest thing in the 3-row midsize SUV market. Or maybe the all-new Honda Pilot is the hottest thing in the 3-row midsize SUV market. They're both great-looking, highly capable family haulers with seating for up to eight and prices starting under $40,000. They're both selling fast, and they're both incredibly well-rounded.
Let's make a tale-of-the-tape comparison to see what sets them apart.
We can't call the 2023 Kia Telluride the new kid on the block anymore. But we can point out that the Telluride won our Best Buy Award in the 3-row midsize SUV category in 2020, 2021, 2022, and 2023 — every year it's been on sale. It has been refreshed for 2023, with styling tweaks inside and out. The 2023 Honda Pilot, meanwhile, is a proven veteran with a recent redesign to keep it up to date.
Let's see how they compare.
2023 Kia Telluride
In many ways, the 2023 Kia Telluride is at the top of the standings in the 3-row midsize SUV league. The Telluride has won our Best Buy Award in the class four consecutive times. It offers a lot of room, a low starting price, a great warranty, and a flexible lineup that now includes two light off-roader models — the X-Line and X-Pro. The Telluride starts at $35,890 and has been so in demand this year that dealers have trouble keeping it in stock.
Kia Telluride Highlights
Lower price: The Telluride has such high build quality that it's surprising to realize its sticker price starts more than $3,000 lower than the Pilot's. After test driving the Telluride, one of our editors wrote, "If the Kia badge were removed from the steering wheel and replaced with a luxury-vehicle logo, no one would think twice about it. That's how upmarket both the design and the materials are." That's quite a statement to make about the cheaper of these two options.
Wide selection of trims: A huge array of trims — there are 10 to choose from — helps buyers find exactly the set of features they want without paying for more than they need. Honda's five are fine but will leave some buyers paying for features they don't care about to get the features they want.
The longest warranty in the business: Kia protects the Telluride with a 5-year/60,000-mile bumper-to-bumper warranty and a 10-year/100,000-mile powertrain warranty. That's a powerful differentiator — major repairs on your 2023 Telluride could be covered in 2033.
Check this week's Fair Purchase Price or see the Telluride models for sale near you.
2023 Honda Pilot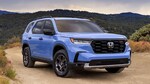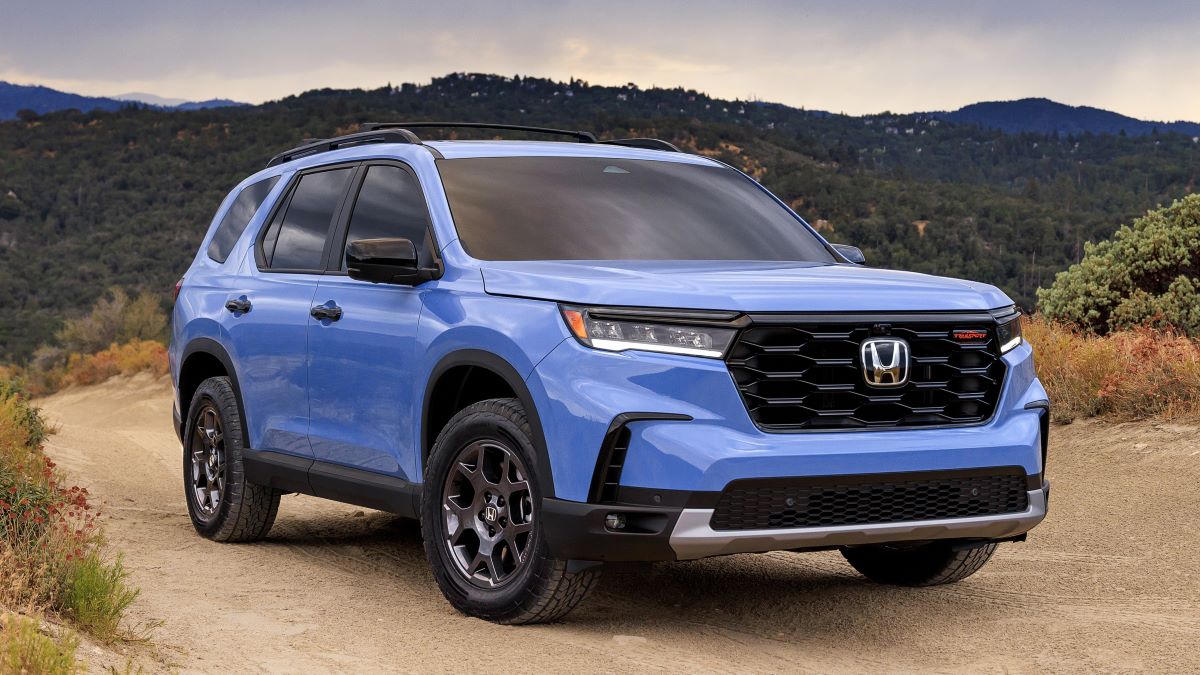 The Honda Pilot has long been one of the most respected names in 3-row family SUVs. For 2023, Honda has redesigned it from a clean sheet of paper. The new one has all the same virtues as older Pilots — lots of space, more than enough power, excellent build quality, and the high resale value that comes with it. But it adds rugged good looks that older models lacked and, a first for Honda, a truly capable off-road model in the Pilot TrailSport. Prices start at $39,150.
Honda Pilot Highlights
Optional flexible seating: Honda designers came up with something truly clever for the 2023 Pilot. Three-row SUV buyers usually have to choose between a second-row bench seat that offers space for three or a pair of more comfortable captain's chairs. Pilot buyers don't. The Touring and Elite trims come with a clever removable middle seat that stows in the floor when not needed.
Third-row legroom: If there's a place where an inch matters, it's in the last row of a family SUV. The Honda has the edge here with, 32.5 inches to the Kia's 31.4.
More serious off-road model: Both Honda and Kia introduced more capable off-road trims for 2023. The Telluride's X-Line and X-Pro editions will help you get off the pavement. But the Pilot's TrailSport model can go further off-road thanks to more serious trail gear like steel skid plates and recovery points. Most owners won't need them. But if you know what those things are, you might be better off with a Pilot.
Check this week's Fair Purchase Price or see the Chevrolet Traverse models for sale near you.
Similarities
All 3-row SUVs are similar, but we'll pull back the curtain on our work enough to say that this is one of the hardest comparisons we've made. These two are at the top of their class, with similar aesthetics and similar specifications.
Conclusion
When automakers design a new car, they typically buy the best models in its class to keep around as benchmarks. We have no doubt that Honda owns a 2023 Kia Telluride, and Kia owns a 2023 Honda Pilot. This is one of the closest comparisons we've ever written. The Telluride's lower price and longer warranty will make it the right choice for some. The Pilot's flexible seating and professional grade off-road TrailSport trim will make it the right choice for some.
But many shoppers could flip a coin between these two and be happy with how it landed.
Specs
| | | |
| --- | --- | --- |
| | 2023 Kia Telluride | 2023 Honda Pilot |
| Starting Price | $35,890 | $39,150 |
| Popular Powertrains | | |
| Engine | 3.8-liter V6 | 3.5-liter V6 |
| Horsepower | 291 hp @ 6,000 rpm | 285 hp @ 6,100 rpm |
| Torque | 262 lb-ft @ 5,200 rpm | 262 lb-ft @ 5,000 rpm |
| Transmission | 8-spd automatic | 10-spd automatic |
| Fuel Economy | 23 mpg (20 city/26 hwy) | 22 mpg (19 city/27 highway) |
| Also Available | AWD | AWD |
| Specs | | |
| Basic warranty | 5 years/60,000 miles | 3 years/36,000 miles |
| Powertrain Warranty | 10 years/100,000 miles | 5 years/60,000 miles |
| NHTSA Overall Safety Rating | 5 stars | TBD |
| Max Seating Capacity | 8 | 8 |
| Wheelbase | 114.2 inches | 113.8 inches |
| Overall Length | 196.9 inches | 199.9 inches |
| Width | 78.3 inches | 78.5 inches |
| Height | 68.9 inches | 71.0 inches |
| Turning Diameter | 38.8 feet | 37.8 feet |
| Headroom, Front | 40.9 inches | 40.5 inches |
| Headroom, Rear | 40.2 inches | 40.2 inches |
| Headroom, 3rd Row | 38.1 inches | 39.3 inches |
| Legroom, Front | 41.4 inches | 41.0 inches |
| Legroom, Rear | 42.4 inches | 40.8 inches |
| Legroom 3rd Row | 31.4 inches | 32.5 inches |
| Shoulder Room, Front | 61.6 inches | 61.9 inches |
| Shoulder Room, Rear | 61.2 inches | 61.7 inches |
| Shoulder Room, 3rd Row | 55.3 inches | 59.5 inches |
| EPA Cargo Volume | 21.0/46.0/87.0 cubic feet | 18.6/48.5/87.0 cubic feet |
Source link