Subcompact SUVs are often the best values in the entire car market. They're the least expensive option on many sales lots. But they offer adequate power, a high seating position to help you see in traffic, and, often, all-wheel drive (AWD).
The Mazda CX-30 and the Hyundai Venue are two of the better choices. But they bring different personalities to try to win your attention. Let's take a closer look at how they compare.
2023 Mazda CX-30
The 2023 Mazda CX-30 is the point of entry to Mazda's fun-to-drive lineup of SUVs. But that description risks selling it short. It's a good-looking vehicle available with a near-luxury level of equipment – something we can't say about every subcompact SUV. Prices start at $22,950, though an available turbocharged engine pushes the price to $33,800.
Mazda CX-30 Highlights
Standard all-wheel-drive (AWD): Hyundai doesn't offer an AWD Venue. Mazda doesn't offer anything but AWD on the CX-30. The added grip makes a big difference if you live where the weather affects your driving and may make the CX-30 the only realistic choice of these two in some areas.
Even its base engine is more powerful: Mazda sells the CX-30 with a choice of two engines – one putting out 191 horsepower and the other making 250. Hyundai builds the Venue with just one option – a 121-horsepower model that can't keep up with either of them.
Refined look: The CX-30 is one of very few good-looking subcompact SUVs. Mazda's curvaceous design style translates well to this small size. The Venue can look cute with the right paint job but never truly handsome.
Check this week's Fair Purchase Price or see the Mazda CX-30 models for sale near you.
2023 Hyundai Venue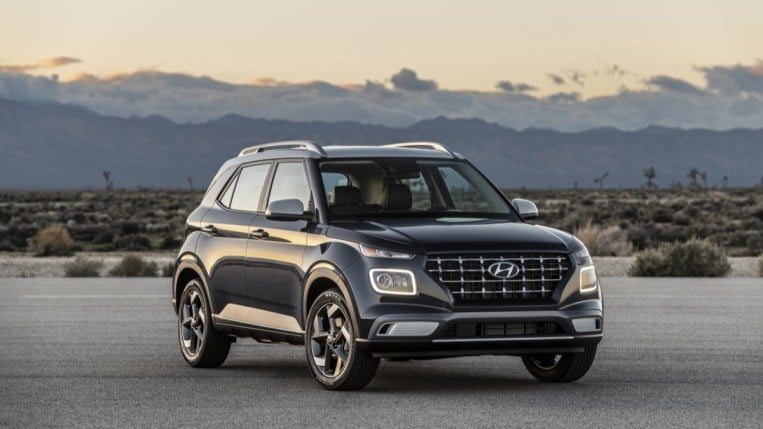 The 2023 Hyundai Venue is a fantastic bargain, both up front and for years afterward. Its 121-horsepower 4-cylinder engine won't win any races, but it will get you where you're going and save you a little at the pump. Two-tone paint options let you make an expressive choice without breaking the piggy bank open. Prices start at just $19,500.
Hyundai Venue Highlights
Lower price: The Venue starts at more than $3,000 less than the CX-30. At this price point, that's significant savings.
Long warranty coverage: Mazda protects CX-30 buyers with a 3-year/36,000-mile basic warranty and a 5-year/60,000-mile powertrain warranty. Hyundai goes much further – five years or 60,000 miles bumper-to-bumper and 10 years/100,000 miles for the powertrain. If you plan to keep your new car for a long time, the added protection is a strong argument for the Venue.
Complimentary maintenance: Hyundai includes three years or 36,000 miles of regularly scheduled maintenance in the purchase price of every 2023 Hyundai. The savings just keep piling up with this car, don't they?
Check this week's Fair Purchase Price or see the Hyundai Venue models for sale near you.
Similarities
Compact size that's easy to live with in urban settings, similar space for passengers (though the CX-30 wins on cargo space).
Conclusion
Not all subcompact SUVs are alike. These two appeal to considerably different buyers. Buyers looking for an invigorating driving experience and a car they like looking at will want to choose the CX-30. Buyers who put financial considerations first will find the Venue's lower price, longer warranty, and complimentary maintenance great for their budgets.
Either could suit your needs, but one of these will likely appeal to your preferences more.
Specs
| | | |
| --- | --- | --- |
| | 2023 Mazda CX-30 | 2023 Hyundai Venue |
| Starting Price | $22,950 | $19,500 |
| Popular Powertrains | | |
| Engine | 2.5-liter 4-cylinder | 1.6-liter 4-cylinder |
| Horsepower | 191 hp @ 6,000 rpm | 121 hp @ 6,300 rpm |
| Torque | 186 lb-ft @ 4,000 rpm | 113 lb-ft @ 4,500 rpm |
| Transmission | 6-spd automatic | CVT |
| Fuel Economy | 29 mpg (26 city/33 hwy) | 31 mpg (29 city/33 hwy) |
| Also Available | 2.5-liter turbo 4-cylinder | N/A |
| Specs | | |
| Basic Warranty | 3 years/36,000 miles | 5 years/60,000 miles |
| Powertrain Warranty | 5 years/60,000 miles | 10 years/100,000 miles |
| NHTSA Overall Safety | 5 stars | 4 stars |
| Max Seating Capacity | 5 | 5 |
| Wheelbase | 104.4 inches | 99.2 inches |
| Overall Length | 173.0 inches | 159.1 inches |
| Width | 70.7 inches | 69.7 inches |
| Height | 61.7 inches | 61.6 inches |
| Turning Diameter | 34.8 feet | 33.2 feet |
| Headroom, Front | 38.1 inches | 39.4 inches |
| Headroom, Rear | 38.3 inches | 38.6 inches |
| Legroom, Front | 41.7 inches | 41.3 inches |
| Legroom, Rear | 36.3 inches | 34.3 inches |
| Shoulder Room, Front | 55.6 inches | 53.9 inches |
| Shoulder Room, Rear | 53.6 inches | 53.7 inches |
| EPA Cargo Volume | 20.2/45.2 cubic feet | 18.7/31.9 cubic feet |
Source link