Mazda builds its reputation on providing a near-luxury experience for affordable car prices. Critics tend to agree, finding Mazda vehicles fun to drive, with premium interiors and great looks, while their prices keep them competing with mainstream, not luxury, vehicles.
Mini, on the other hand, is unabashedly a luxury car. It's the fun one. A division of BMW, Mini sells its cars for entry-level-luxury prices and sets them apart with their fun-to-drive character.
See where we're going with this?
What happens when you pit a subcompact Mazda against a Mini? The Mazda CX-30 and Mini Clubman are similar in size and both known for their taut handling. How do they stack up against one another?
2023 Mazda CX-30
The Mazda CX-30 is Mazda's most affordable vehicle, with a $22,950 starting price and a 191-horsepower 4-cylinder motor. Lined up next to other affordable subcompact SUVs, it's the fun one. To compare it to a Mini, however, we'll use a more upscale version — the 2.5 Turbo Premium starts at $33,800 and uses a more potent, turbocharged 2.5-liter engine good for 250 horsepower.
Mazda CX-30 Highlights
Standard all wheel-drive (AWD): Mazda made a big decision for the 2022 model year and stuck with it for 2023 — every Mazda SUV now uses an AWD system. Mini, like most automakers, makes you pay extra for that. The added safety of all that grip for no added cost is a real advantage.
More power for the money: Both Mazda and Mini are known for terrific handling. So what makes the performance difference between these two? The CX-5's base engine is a bit more powerful than the Clubman's. But Mazda offers a much more powerful option — a turbocharged mill with up to 250 horsepower — that's still cheaper than the Mini.
Standard Apple CarPlay/Android Auto: In 2023, automakers have made smartphone compatibility standard on most cars. Surprisingly, Mini hasn't. CarPlay is found only on upper-level Clubman trims, and Android Auto isn't available at all. Mazda has the good sense to offer it as standard equipment at every price point. As attached as we all are to our phones, that's a safety feature.
Check this week's Fair Purchase Price or see the Mazda CX-30 models for sale near you.
2023 Mini Clubman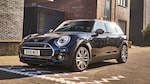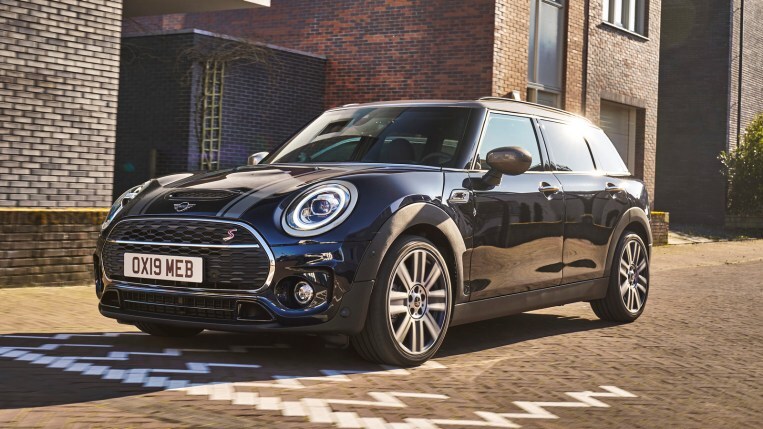 The 2023 Mini Clubman is just fun. Its shape is fun; just about the only subcompact wagon on the market. Its handling is fun; it's built on the go-kart-like platform of the famous Mini Cooper. Even its customization options are fun; no other automaker offers you a choice of several funky roof paint jobs. At $34,500, though, it comes with a luxury price tag.
Mini Clubman Highlights
Personalization options: The Mini ethos is all about standing out in the parking lot. Configuring most cars means picking a body color and an interior trim color. Configuring a Clubman means picking a body color, mirror color, and roof color (including several multi-color options), then choosing from five wheel styles and nine interior trim combinations. You can express yourself in the design of your Mini in a way you can't with most cars.
Potent John Cooper Works version: The CX-30 has you covered if you want added performance without going too far into luxury price territory. If price matters less to you, though, there's a Clubman that will outrun every CX-30. The John Cooper Works version gets a 301-horsepower turbocharged inline 4-cylinder engine, a firm sport suspension that will hold up to all kinds of cornering shenanigans, plus additional paint colors (that customization thing again) and color-changing ambient lighting. It starts at $43,250.
Manual transmission option: Most drivers want a transmission that shifts itself. But if you're looking at cars that emphasize fun, you might want to take control yourself. Mini offers a 3-pedal Clubman. Mazda doesn't counter with the CX-30.
Check this week's Fair Purchase Price or see the Mini Clubman models for sale near you.
Similarities
Small size, five seats, four cylinders, built-in fun.
Conclusion
The Mazda CX-30 might not immediately strike you as a rival for the Mini Clubman. But the two vehicles are similar in size, and both pile on the fun with tight handling characteristics. Because the CX-30's starting price is so much lower, you can fill it up with options before even approaching the price of the Mini. You can even upgrade to a more powerful turbocharged engine without matching the Mini's starting price. But the Mini offers more opportunities to personalize your car — the option of three-pedal driving for real enthusiasts and a potent John Cooper Works model if you can spend the money.
Which one is right for you? Only you can answer that.
Specs
| | | |
| --- | --- | --- |
| | 2023 Mazda CX-30 | 2023 Mini Clubman |
| Starting Price | $22,950 | $34,500 |
| Popular Powertrains | | |
| Engine | 2.5-liter 4-cylinder | 2.0-liter turbocharged 4-cylinder |
| Horsepower | 191 hp @ 6,000 rpm | 189 hp @ 5,000 rpm |
| Torque | 186 lb-ft @ 4,000 rpm | 206 lb-ft @ 1,350 rpm |
| Transmission | 6-speed automatic | 7-speed automatic |
| Drivetrain | AWD | FWD |
| Fuel Economy | 26 city/33 highway/29 combined mpg | 23 city/33 highway/26 combined mpg |
| Also Available | 2.5-liter turbocharged 4-cylinder | 6-speed manual, AWD with 8-speed automatic transmission, 301-horsepower John Cooper Works version |
| Specs | | |
| Basic Warranty | 3 years/36,000 miles | 4 years/50,000 miles |
| Powertrain Warranty | 5 years/60,000 miles | 4 years/50,000 miles |
| NHTSA Overall Safety Rating | 5 stars | TBD |
| Max Seating Capacity | 5 | 5 |
| Wheelbase | 104.4 inches | 105.1 inches |
| Overall Length | 173.0 inches | 168.5 inches |
| Width | 70.7 inches | 70.9 inches |
| Height | 61.7 inches | 56.7 inches |
| Turning Diameter | 37.3 feet | 37.1 feet |
| Headroom, Front | 38.1 inches | 40.2 inches |
| Headroom, Rear | 38.3 inches | 38.0 inches |
| Legroom, Front | 41.7 inches | 41.4 inches |
| Legroom, Rear | 36.3 inches | 34.3 inches |
| Shoulder Room, Front | 55.6 inches | 54.7 inches |
| Shoulder Room, Rear | 53.6 inches | 52.8 inches |
| Cargo Volume | 20.2/45.2 cubic feet | 17.5/47.9 cubic feet |