Three-row SUV shoppers have more choices than ever. So many choices it can be paralyzing. We hate to complicate matters, but the Mazda CX-9 creates a bit of a conundrum on its own. Mazda has been moving upmarket in recent years, offering handling characteristics and, with its priciest trims, interior refinement to rival some luxury cars. So, can the CX-9 hold its own against offerings from luxury competitors?
The Acura MDX is a well-reviewed 3-row SUV from the luxury division of Honda. Mazda doesn't operate a separate luxury division, content to pit its mainstream vehicles against the luxury models of other manufacturers. Can the CX-9 really stay in the ring with the MDX?
Let's find out.
2023 Mazda CX-9
Among affordable 3-row SUVs, the 2023 Mazda CX-9 is the one with the great-to-drive reputation. It will do family hauling duty like any good midsize SUV. But drop the kids off and take the winding road to work, and it will reward you in ways most others can't. It starts at $38,750.
Mazda CX-9 Highlights
Best-in-class handling: Our test driver calls the CX-9 "the 3-row SUV that doesn't drive like a 3-row SUV." Torque vectoring, tight steering, and a turbocharged engine that can put out up to 250 horsepower when fed premium fuel give it "a je ne sais quoi not often found in a car — and almost never found in a mainstream 3-row SUV like the Mazda CX-9."
More than $10,000 less expensive: The real reason to buy a luxurious mainstream SUV instead of a luxury-badged SUV is the luxury of extra money in your pocket every month. A well-equipped CX-9 will give you a fun driving experience, indulgences like quilted Nappa leather seating, and technologies like Apple CarPlay and Android Auto. But the top-of-the-line CX-9 trim is less expensive than the entry-level MDX.
Standard all-wheel drive (AWD): The CX-9 comes standard with Mazda's i-Activ AWD with off-road traction assist. The MDX comes with front-wheel drive (FWD), unless you pay $2,200 extra for AWD.
Check this week's Fair Purchase Price or see the Mazda CX-9 models for sale near you.
2023 Acura MDX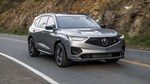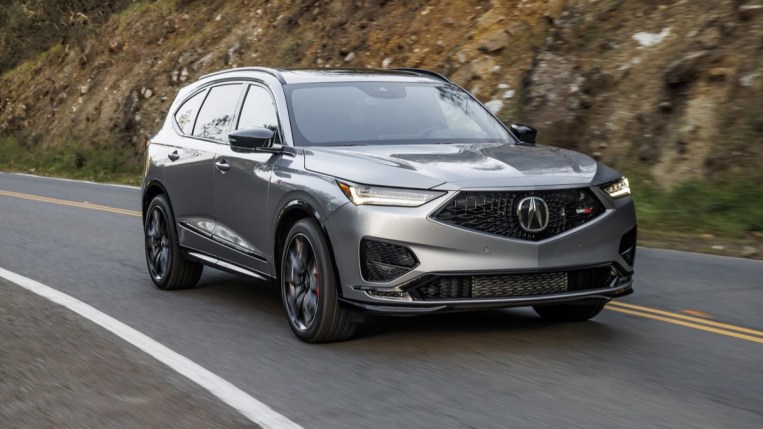 A 3-row SUV from the luxury division of Honda, the 2023 Acura MDX is known for its tech-rich interior and the option of Acura's well-regarded Super Handling All-Wheel Drive (SH-AWD) system. It boasts almost the same cabin measurements as the CX-9 but more power and two years of free maintenance. Prices start at $49,550.
Acura MDX Highlights
V6 power: The CX-9 does a convincing impression of a luxury SUV everywhere but under the hood. The MDX's standard 290 horsepower V6 outclasses anything the CX-9 can offer and does it with almost the same fuel economy numbers.
Longer warranty, complimentary maintenance: Owning a luxury car is only partly about the car itself. It also means a great long-term ownership experience. Acura gives you a longer basic warranty, a longer powertrain warranty, and two years of free maintenance with the MDX.
Available Type S package: It will cost you, but Acura can put together a high-performance MDX that will run away from the CX-9's great-for-its-price performance. Acura's well-regarded SH-AWD system, an adaptive air suspension, and Brembo brakes make it a class above.
Check this week's Fair Purchase Price or see the Acura MDX models for sale near you.
Similarities
For vehicles traditionally considered in different categories, these two have a lot in common, including similar passenger and cargo space, and if you consider the CX-9's top-of-the-line Signature trim, lovely interiors with luxurious soft-touch materials
Conclusion
Automotive journalists tend to sort cars into affordable and luxury categories to help shoppers cross-shop similar vehicles. But sometimes, those lines blur. A fully equipped Mazda CX-9 gives you a luxury-like experience for less. The MDX can outclass it when you start adding options to the Acura. But the CX-9 is a real alternative to entry-level luxury 3-row SUVs.
Specs
| | | |
| --- | --- | --- |
| | 2023 Mazda CX-9 | 2023 Acura MDX |
| Starting Price | $38,750 | $49,550 |
| Popular Powertrains | | |
| Engine | 2.5-liter turbo 4-cylinder | 3.5-liter V6 |
| Horsepower | 227 hp @ 5,000 rpm | 290 hp @ 6,200 rpm |
| Torque | 310 lb-ft @ 2,000 rpm | 267 lb-ft @ 4,200 rpm |
| Transmission | 6-speed automatic | 10-spd automatic |
| Fuel Economy | 23 mpg (20 city/26 hwy) | 22 mpg (19 city/26 hwy) |
| Towing capacity | 3,500 pounds | 5,000 pounds |
| Specs | | |
| Basic warranty | 3 years/36,000 miles | 4 years/50,000 miles |
| Powertrain Warranty | 5 years/60,000 miles | 6 years/70,000 miles |
| NHTSA Overall Safety Rating | 5 stars | 5 stars |
| Max Seating Capacity | 7 | 7 |
| Wheelbase | 115.3 inches | 113.8 inches |
| Overall Length | 199.4 inches | 198.4 inches |
| Width | 77.5 inches | 78.7 inches |
| Height | 69.0 inches | 67.1 inches |
| Turning Diameter | 38.8 feet | 40.5 feet |
| Headroom, Front | 40.1 inches | 38.5 inches |
| Headroom, Rear | 38.5 inches | 38.1 inches |
| Headroom, 3rd Row | 35.4 inches | 36.2 inches |
| Legroom, Front | 41.0 inches | 41.6 inches |
| Legroom, Rear | 39.4 inches | 38.5 inches |
| Legroom 3rd Row | 29.7 inches | 29.1 inches |
| Shoulder Room, Front | 57.9 inches | 61.9 inches |
| Shoulder Room, Rear | 58.1 inches | 60.3 inches |
| Shoulder Room, 3rd Row | 53.1 inches | 55.2 inches |
| Cargo Volume | 14.4/38.2/71.2 cubic feet | 16.3/39.1/71.4 cubic feet |
Source link