The Mazda3 and Toyota Corolla are old friends and rivals. Buyers have been choosing between the two for almost two decades. Both make solid choices for almost anyone. They're reliable, comfortable compact cars with long-earned reputations and equipment lists that can take them from comfortable family cruiser to near-luxury car.
But they aren't alike in every way. There are good reasons one buyer might prefer one and another the other. Let's break them down.
2023 Mazda3
Among affordable compact cars, the 2023 Mazda3 is known for its precise handling balance and energetic engine choices. There are real engineering reasons for the 3's strong athletic reputation. Its torque vectoring system — something we're more used to seeing in the luxury classes — gives it an advantage over almost every other car in its price range. It doesn't hurt that it looks the part. Prices start at $22,550.
Mazda3 Highlights
This thing doesn't drive like an affordable car: The Mazda3's torque vectoring system brakes each wheel individually to keep the body stable in cornering. It's the secret ingredient that gives driving the 3 more spice than time behind the wheel of any other mainstream small sedan.
Available 6-speed stick: Toyota dropped the manual transmission option from the Corolla lineup for 2023. Mazda still offers a stick in the 3, though it's only available in the hatchback model. If you like that level of engagement with your car (and we do), only Mazda still has your back.
Optional turbocharged engine: Corolla buyers can choose from a 169-horsepower engine or a 138-horsepower hybrid. Mazda3 buyers can choose from a 191-horsepower 4-cylinder engine or a turbocharged version that gets 227 on regular gas and 250 if you fill it with premium. Did we mention that almost everything about the Mazda3 is designed to make it fun?
Check this week's Fair Purchase Price or see the Mazda3 models for sale near you.
2023 Toyota Corolla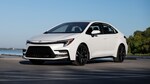 The name Corolla has appeared on more cars than any other. Buyers come to the 2023 Toyota Corolla for reliability and strong resale value, but Toyota would probably be able to sell quite a few, even under another name. It's a wonderful jack-of-all-trades car with a starting price of $21,550, available hybrid models, and a new high-resolution screen for 2023.
Toyota Corolla Highlights
Optional hybrid powertrain: Mazda is finally getting into the hybrid game in 2023 with its CX-90 SUV, but the company still hasn't brought out a fuel-sipping hybrid sedan. Toyota's Corolla Hybrid gets up to 47 mpg in combined driving, saving you money at the pump compared to what the Mazda3 can do. It even offers all-wheel drive.
Legendary resale value: The Corolla is one of the automotive world's most known quantities, and its famous reliability has consistently led to some of the market's strongest resale values.
Saves you money at higher trim levels: These two have similar starting prices, but big differences appear as you move up to more well-equipped trim levels. The top-of-the-line Mazda3 2.5 Turbo Premium Plus, for the hatchback, costs more than $35,000. The priciest Corolla, the XSE, starts at just $26,700. It includes heated seats, synthetic leather upholstery, a customizable digital driver's display, and other luxuries for a much lower price.
Check this week's Fair Purchase Price or see the Corolla models for sale near you.
Similarities
These two have almost the same measurements, similar starting prices, and excellent long-term reputations.
Conclusion
The Mazda3 and Toyota Corolla are two of the most respected names in compact cars, both available as sedans or hatchbacks and offering similar refinement. Many buyers would be happy with either. The Mazda3 offers a better driving experience, with more available engine power, torque vectoring for precise handling, and an available 6-speed manual transmission. The Toyota Corolla is less of a driver's car but an excellent long-term value with the best resale values in the industry and a lower price for added luxuries.
Specs
| | | |
| --- | --- | --- |
| | 2023 Mazda3 | 2023 Toyota Corolla |
| Starting Price | $22,550 | $21,550 |
| Popular Powertrains | | |
| Engine | 2.5-liter 4-cylinder | 2.0-liter 4-cylinder |
| Horsepower | 191 hp @ 6,000 rpm | 169 hp @ 6,600 rpm |
| Torque | 186 lb-ft @ 4,000 rpm | 151 lb-ft @ 4,400 rpm |
| Transmission | 6-speed automatic | CVT |
| Fuel Economy | 31 mpg combined (28 city/37 hwy) | 35 mpg combined (32 city/41 hwy) |
| Also Available | 250-horsepower turbocharged engine, AWD, 6-spd manual transmission (hatchback) | 1.8-liter 4-cylinder hybrid, hatchback model |
| Specs | | |
| Warranty | 3 years/36,000 miles | 3 years/36,000 miles |
| Powertrain Warranty | 5 years/60,000 miles | 5 years/ 60,000 miles |
| NHTSA Overall Safety | TBD | 5 stars |
| Max Seating Capacity | 5 | 5 |
| Wheelbase | 107.3 inches | 106.3 inches |
| Overall Length | 183.5 inches | 182.5 inches |
| Width | 70.7 inches | 70.1 inches |
| Height | 56.9 | 56.5 inches |
| Turning Diameter | 34.8 feet | 35.6 feet |
| Headroom, Front | 38.0 inches | 38.3 inches |
| Headroom, Rear | 37.3 inches | 37.1 inches |
| Legroom, Front | 42.3 inches | 42.0 inches |
| Legroom, Rear | 35.1 inches | 34.8 inches |
| Shoulder Room, Front | 55.7 inches | 54.0 inches |
| Shoulder Room, Rear | 53.5 inches | 51.7 inches |
| EPA Cargo Volume | 13.2 cubic feet | 13.1 cubic feet |
Source link