The 2024 Chevy Trax will start at $21,495, including destination and freight charges.
Set to go on sale in spring of 2023.
The least-expensive Chevy has received a dramatic redesign, going from frumpy to sharp-looking.
We don't give an award for Most Improved New Car, but the 2024 Chevy Trax has us thinking it over. Chevrolet's least expensive vehicle has gotten a glow-up so severe that we suspect five unusually stylish crossovers took it shopping.
Forgettable Until Now
The Trax, in case you didn't notice it when it wasn't noticeable, has (until now) been Chevrolet's smallest SUV. Since the automaker trimmed the Spark subcompact sedan from its lineup over the summer, it has also been the cheapest option on any General Motors sales lot.
The 2022 Trax is a subcompact SUV so basic that the most praise our test drivers could muster was to call it "a reasonably priced subcompact SUV/crossover with generally good outward vision." Many subcompact crossovers look odd — it's simply difficult to design a vehicle with the length and width of a subcompact car but the height of an SUV without making it look ungainly and undergrown. Below is a picture of the 2022 model. See what we mean?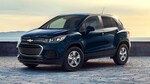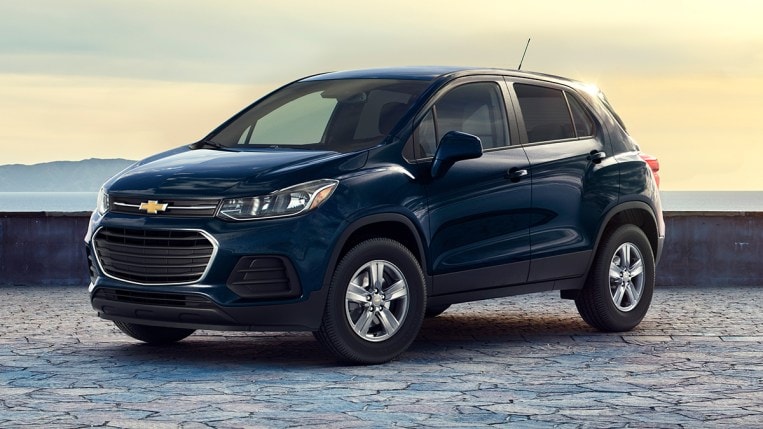 It also faced the challenge of appearing alongside a better-looking subcompact SUV wearing the same badge and a similar price tag. The 2023 Chevy Trailblazer looks less ridiculous and is only marginally more expensive.
So, for 2024, Chevy has redesigned the Trax completely, and they've cheated.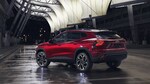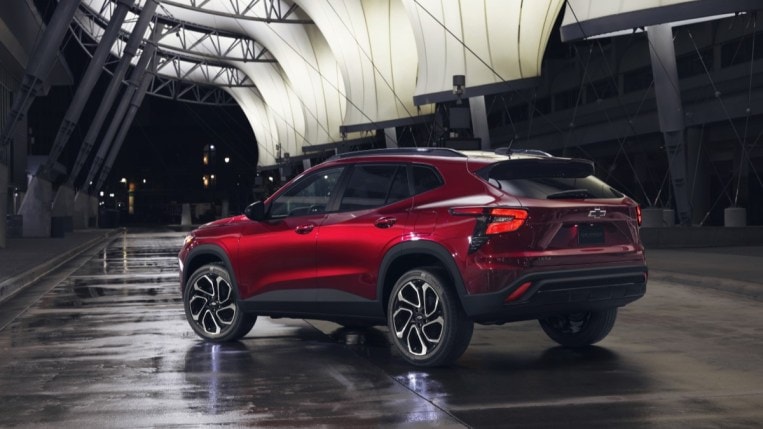 Baby Blazer Looks
The 2024 Trax is not truly a subcompact anymore. Eleven inches longer than the outgoing model and 2 inches wider, it encroaches on compact SUV territory. It's largely based on a Chinese-market vehicle, the Chevy Seeker. And yes, we've arrived at the point where American automakers copy their best designs from China to sell at home.
It's larger than the Trailblazer but still carries a lower starting price — just $21,495. That figure includes the destination charge. Chevrolet hasn't broken out how much of the price is the delivery fee.
It gets its looks from the midsize Chevy Blazer. Almost precisely. With its thin slit daytime running lights, athletic stance, and upward-curving C-pillar, the Trax is every bit a baby Blazer. That's a very good thing. It's gone from ungainly to attractive.
Inside, the 2024 Trax gets a thoroughly modern cabin with a driver's instrument screen and central touchscreen paired together, big circular vents, and even contrast-color stitching on some trim levels. That central touchscreen is just 8 inches in the base model but 11 inches on higher trims.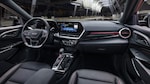 We still see the kind of hard, glossy plastics that tend to make up inexpensive car cabins and don't wear well, but they're put together well. It looks like a more expensive cabin than it is, which is what many buyers want in this price range.
Mechanically Nothing Special
Under the hood sits a 1.2-liter turbocharged 3-cylinder engine making 137 horsepower and 162 lb-ft of torque. It sends power through a 6-speed automatic transmission to the front wheels. There is no all-wheel-drive option.
That may be the most basic drivetrain you'll find for sale on a 2024 car, but that's the point of budget transportation. Shoppers looking for a subcompact SUV don't expect it to thrill them on the ride to school.
They want a reliable car under warranty that doesn't look embarrassing. The 2022 Trax struggled to get there. The 2024 Trax gets there in style.
We haven't seen the other entry-level crossovers for the 2024 model year, so it's too early to draw comparisons to the usual class leaders like the Honda HR-V and Kia Seltos. But we can safely say that the last Trax wasn't a threat to them. The new Trax looks like it could well be.
2024 Chevy Trax pricing:
Chevrolet released 2024 Trax prices without breaking out the delivery cost separately. The 2024 Trax is set to be available in spring of 2023. For the 2022 model year, Chevy charges $1,195 in freight on its smallest crossovers. We suspect the 2024 delivery cost will be similar. But, for now, we have to depart from our usual practice of breaking it out in the interest of transparency and report only totals.
| | |
| --- | --- |
| Trim | MSRP |
| LS | $21,495 |
| 1RS | $23,195 |
| LT | $23,395 |
| 2RS | $24,995 |
| Activ | $24,995 |
Source link