The current Hyundai Sonata is known for a remarkably long equipment list for an affordable price, the longest
warranty
in the automotive business, and an unusual look that doesn't work for everyone. If you've been shopping for a midsize car since the Sonata's 2020 model year redesign, you might have noticed it for the compelling practical argument it makes.
But you probably haven't watched one pass and said, "dayummm."
For the 2024 model year, the Sonata is getting a styling refresh. It's probably not an all-new car, but it is an all-new look inside and out, and… we're just gonna say it… dayummmmmm.
The new Sonata looks good.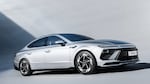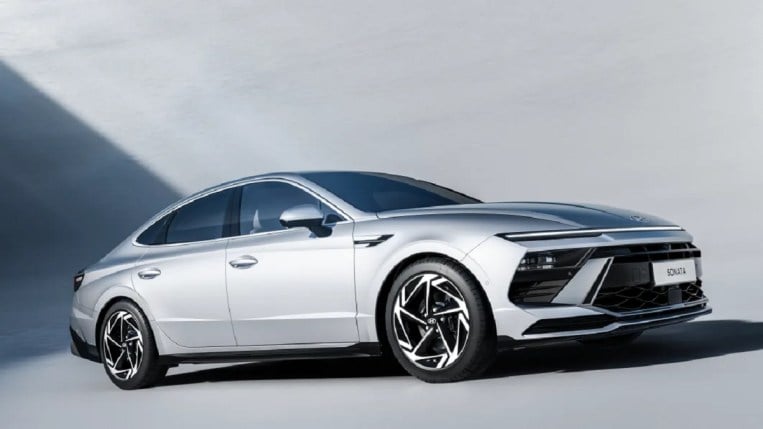 Design in Light
The first thing you'll notice about the 2024 Sonata is a lighting element — a wide, thin LED line that passes above the headlights and grille. It's a little strange how well this design element unites the Sonata's lines and solves the strange, droopy-nose problem that makes the current Sonata remind some automotive journalists of a toucan. [Editor's note: "Some," eh? How many Seans do we have today?]
Motor Trend called the new lighting scheme "One Sexy Electric Unibrow," and we're a little jealous of them for the line. Hyundai calls it the "Seamless Horizon Lamp" in a press release. Whatever you call it, it makes sense for a front end that always seemed a little pinched.
From that point back, the Sonata doesn't change much. But it looks changed, thanks to the new fascia and a thin, high-mounted vent on the front fenders that adds a touch of luxury flair. The trunk has a completely reworked lighting arrangement as well. The current model's wraparound claw of red LEDs is replaced with a simpler horizontal line capped with hammerheads at both ends. Faceted rectangles in the trunk look almost grille-like and visually call back to Hyundai's electric lineup.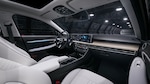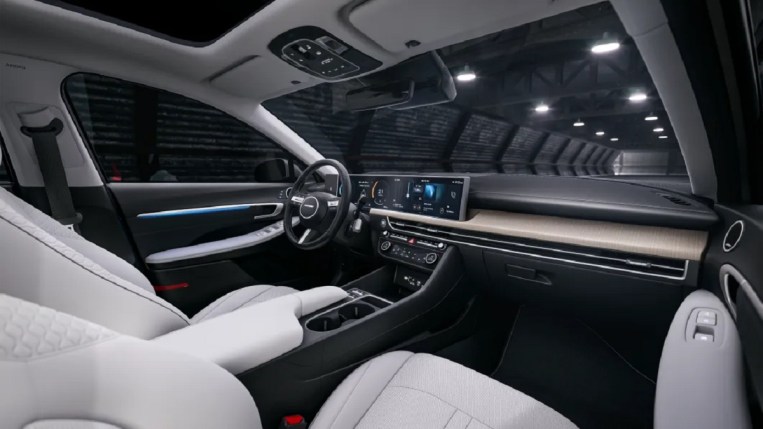 Curved Screens, 1980s-Style Column Shifter
There are big changes in store inside, too.
Two screens are united in what Hyundai calls a "panoramic curved display," set into a simple dash. It looks elegant, and it's impressive for a mainstream car — both the driver's display and central touchscreen are 12.3 inches. Manual climate controls underneath them mean you don't have to page through screen menus to change the temperature.
The gear selector is on the steering column, opening up space for a long armrest and excellent storage between the front seats. A 1980s column shifter and 2020's screen treatment somehow has charm.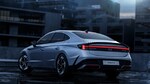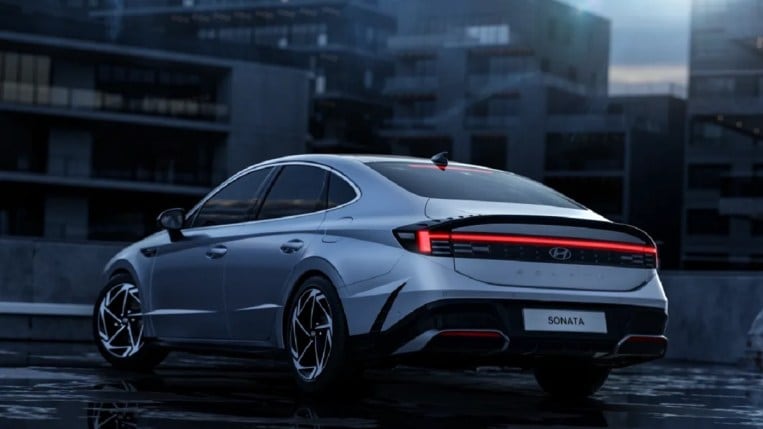 Hyundai has not revealed any mechanical details. But we don't expect them to change from the current model — mid-cycle refreshes like this are usually cosmetic affairs. The press photos Hyundai has revealed include an N Line edition (Hyundai's term for a model with sporty-looking details that's less expensive and less spicy than its high-performance N models). The company says the Sonata will be offered "in standard and N Line variants," so we don't expect an actual N model.
Hyundai will reveal the car in full on March 30. We'll bring more details then.
Source link