Your car has a suspension system made up of shock absorbers, struts and various other linkages and bearings that work to minimize friction between your tires and the road. When you fire up your engine and accelerate to high speeds, the suspension system keeps you and your passengers stable inside.
Most roads aren't completely flat, so your car is likely to bounce up and down rapidly as it's thrusted upward and then pulled back down by gravity. Suspension parts keep your ride as smooth as possible by absorbing energy or "shock" that travels vertically.
A car suspension problem will make driving less stable, more uncomfortable and unsafe as handling becomes affected.
Signs of Car Suspension Problems
Before you look into suspension repairs, you have to know whether you have a problem with your system. Most of the time, you'll be able to feel problems with your shock absorbers or struts from behind the wheel. A common sign of suspension problems is the sensation of a steering wheel slipping when it's turned or not held at a certain angle.
The suspension system keeps your wheel intact and steady as you drive. This makes it easy to maneuver your vehicle and stay in control even when you're driving fast or on uneven terrain. However, with a damaged steering suspension, you face the risk of your car veering off to one side of the road and losing control entirely.
Another sign that you need a car suspension repair is your car leaning to one side when parked. If your car is on level ground but still shifts heavily in one direction, it's likely that a suspension spring is damaged or broken. You can test this at home by pushing down on the trunk of your car. If the car bounces a lot and/or you hear some creaking or squeaking, chances are that you have a faulty spring.
A Word of Caution
Don't adjust driving to accommodate difficult suspension.
If you notice a change in handling, head to a local garage as soon as possible and have your suspension system checked out. Your car gives clear signs when something is wrong. The biggest mistake you can make is to ignore it altogether and just change your driving method. The longer you drive with problems, the worse they'll become. Prolonged damage eventually leads to sudden breakdowns and unexpected mishaps, which puts you and other drivers at risk of a serious accident.
Tension behind the wheel means your car isn't as easy to control. You should have your shock absorbers and struts tested by a professional. Some signs that your need to have your car suspension checked is a bouncing feeling while driving and wobbliness at higher speeds.
If your shock absorbers and struts are damaged, bigger parts could be damaged, too.
How much does car suspension repair cost?
It's not possible to put an exact figure on the cost of a suspension repair because several factors that impact the total.
First, your car's make and model will play a significant role in how much you pay for a suspension repair. Luxury vehicles tend to cost double, so a BMW or Jaguar is going to be significantly more expensive to repair than a Honda or Toyota.
Car suspension cost is also affected by labor costs, the necessary parts and the extent of damages. The brand of parts your mechanic buys as well as the garage rates will impact the final cost of service.
Your insurance may also play a major role in your repairs. Standard car insurance doesn't cover regular repairs from normal wear-and-tear.
Unless your suspension system was damaged from an accident or another incident like hitting a massive pothole, you may have to pay for the entire repair out of pocket.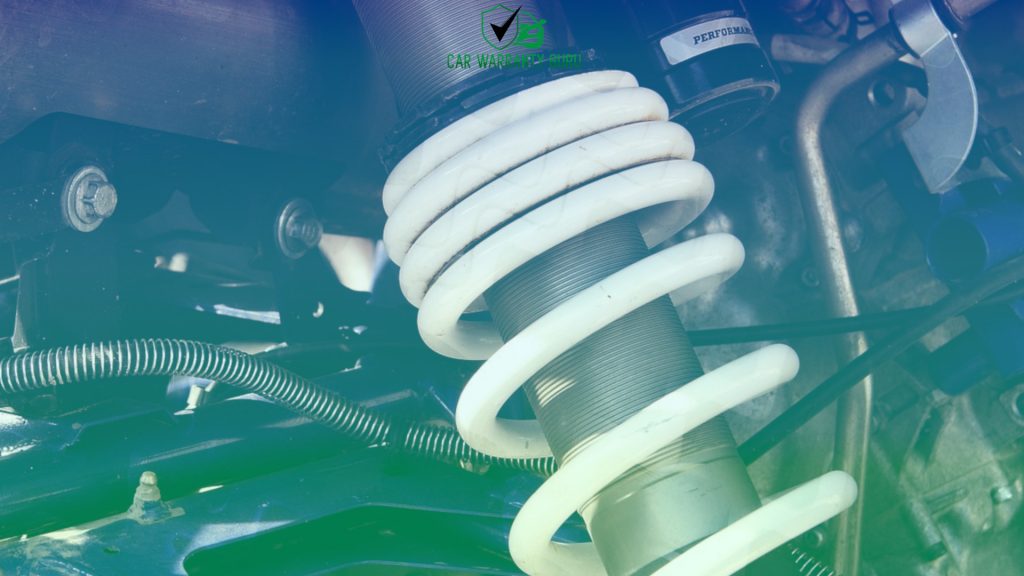 The 5 Most Expensive Car Suspension Repairs
Shock Absorbers and Struts
Shocks and strut repairs can stop your car from pulling in a certain direction while you drive and reduce friction. Every vehicle should have its suspension system checked for wear-and-tear after every 50,000 to 60,000 miles. A set of four shock absorbers averages around $1,400, but that price may increase depending on the type of car you drive.
There are some do-it-yourself kits out there, but unless you're experienced with cars and know your way around a vehicle's inner-workings, you could do far more harm than good.
Ball Joint Replacement
Ball joints connect your car's tire and wheel to the suspension system. Replacing one costs about $200, but a set of four could run closer to $1,000. Some vehicles only have front ball joints while others have them in the back as well.
Spring Replacement
Spring repairs will reduce bounce, increase stability and make it easier to drive. Depending on your car, the average cost of a coil spring replacement is around $390. The total cost may change based off your model, the extent of the repair and how many springs needed fixed or replaced.
Total System
When it comes to suspension services, you many need front suspension repairs, rear fixes or an all-around overhaul. In extreme cases, a mechanic may suggest replacing the entire system due to structural damages. If this is the case, expect to spend at least $3,500, excluding garage costs for labor.
Choosing the Right Mechanic to Fix Your Car Suspension
You can drive a car with bad suspension, but it's not recommended. Doing so greatly increases your risk of an accident and worsens the damage that's already been done. Also, the sooner you seek a professional's help, the less money you'll have to pay. A massive repair could be a minor replacement if it's caught on time.
Call your car warranty company first and check your coverages. In some cases, you may have to work with a specific garage or company to receive compensation. If you're able to choose your own, shop around and get an estimate. Make sure that you find a professional that doesn't push a total suspension system replacement unless it's necessary.
Ultimately, safety is your top priority. A smooth, steady ride with a good suspension system protects you and your passengers. So, it's always better to get your car looked at before you experience any major difficulties.