Electric cars offer cheap day-to-day driving, brisk acceleration in a quiet cabin, and the knowledge that you're limiting your emissions and your contribution to a warming climate.
Gas-powered cars offer simpler, quicker refueling, near-infinite range as long as you have access to gasoline, and all the sensations you've grown used to in many years of driving.
But did you know there's a third option that combines the virtues of both? Plug-in hybrid vehicles (PHEVs) have a gasoline powertrain and an electric one. They can travel a certain distance under electric power alone (between 30 and 40 miles for most PHEVs on the market this year) and then use their gasoline engine when the battery is depleted.
Owning one is like having an electric car for around-town driving and a gas-powered car for longer trips, without the hassle and expense of maintaining two cars. For 2023, the best PHEV on the market is the Kia Sportage PHEV.
Kia's compact SUV has won our Best Buy Award among PHEVs.
We Test More than 300 Vehicles
There are a lot of new car awards. But there's nothing quite like our annual Best Buy Awards.
Many publications pin a ribbon on the new car that impresses them the most. But they tend to evaluate cars as pieces of engineering and give awards to cars with impressive performance numbers.
We award cars that are good decisions for the buyer.
Our editors drive more than 300 new cars every year. They look for cars that are pleasant to drive, comfortable, offer intuitive entertainment and information systems, and have a long list of modern safety technologies. They study reliability data. And they run the numbers on buying and owning each car, factoring in depreciation, resale value, insurance, maintenance, financing, fuel, fees, and taxes.
It takes all year. But, in the end, our editors find the vehicles that best balance driving pleasure, capability, and long-term affordability.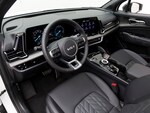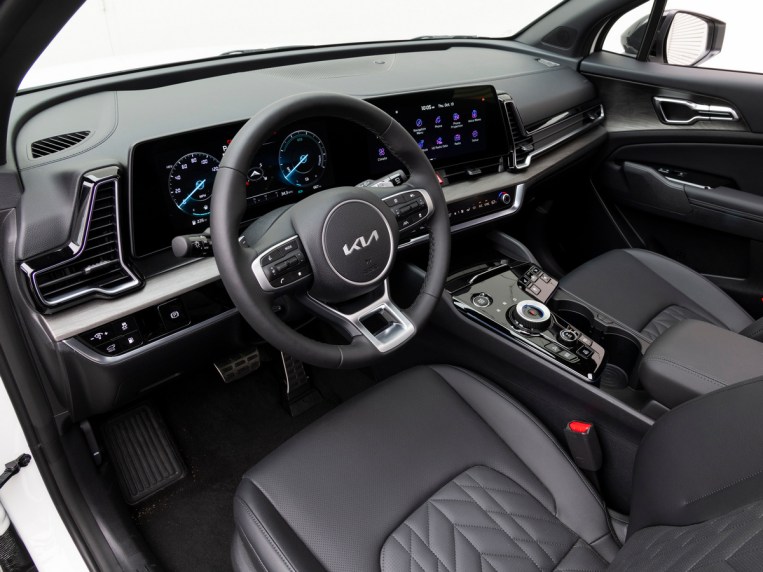 The Sportage Is the Total Package
Among PHEVs, our editors found the Sportage offers the best balance of traits for a reasonable price.
Starting at $38,690, it feels almost like a luxury car. That's partly thanks to stunning interior design. A central touchscreen and driver's instrument screen mounted together like one wide, curved screen surface look like something out of a BMW or Mercedes product. Soft-touch materials throughout feel a class up in quality.
It's partly thanks to thoughtful touches, like an audio system that automatically lowers the volume when you shift into reverse.
The electric motors and 1.6-liter turbocharged 4-cylinder engine combine for 261 horsepower – more than enough for most driving tasks. Standard all-wheel drive adds winter grip, and 34 miles of all-electric range mean you can complete most commutes and daily errands on cheaper electricity.
Plug-in hybrids are a great solution for many buyers. But the added complexity of two powertrains might mean more things could go wrong. That's where the Sportage really shines – a 5-year/60,000-mile bumper-to-bumper warranty and a 10-year/100,000-mile powertrain warranty add peace of mind over the long haul.
There are PHEVs for many needs these days. Jeep builds a Wrangler 4xe for the off-roading crowd. Subaru builds its little Crosstrek PHEV for those who don't want a lot of car. BMW will soon build an opulent 7 Series PHEV for those who want everything in a car.
But our editors find the 2023 Kia Sportage PHEV to be the best buy of its kind, thanks to its striking balance of traits.